The Culture Gabfest: Drooping and Slumping Toward Insanity Edition
Slate's podcast about the New York Times' review of Guy Fieri's restaurant, Philip Roth's retirement, and Amtrak's Quiet Car.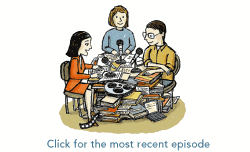 Listen to Culture Gabfest No. 218 with Stephen Metcalf, Dana Stevens, and Julia Turner by clicking the arrow on the audio player below:
The sponsors of today's show are Stamps.com and Audible.com. Go to Stamps.com and use the promo code "CULTUREFEST" for your no-risk free trial and bonus offer. Get a free audiobook from Audible's collection of more than 100,000 titles and a subscription to a daily audio digest when you sign up for a 30-day free trial at www.audiblepodcast.com/culturefest.
Culturefest is on the radio! "Gabfest Radio" combines Slate's Culture and Political Gabfests in one show—listen on Saturdays at 7 a.m. and Sundays at 6 p.m. on WNYC's AM820.
On this week's Culturefest, our critics discuss Pete Wells' scathing review of Guy Fieri's new restaurant in Times Square, the responsibilities of the critic generally, and whether a critic's boiling rage can lead him to go too far in eviscerating his subject. They then consider the notion of retirement and when and why writers, artists, and public figures should call it quits. Finally, the Gabfesters share their thoughts on the New York Times opinion piece about Amtrak's Quiet Car, the enforcement of silence in public spaces, and corrective journalism that shames those who don't require or respect the silence of the Quiet Car.
Here are some links to the things we discussed this week:
Dana's pick: The Animal Odd Couples episode of the PBS show Nature, about animals of different species who become inseparable friends.
Julia's pick: Ravelry, the social networking site for knitters and crocheters.
Stephen's pick: The Ryan Adam's song "Firecracker" and having a Blood Mary with brunch.
Outro: "Firecracker" by Ryan Adams
This podcast was produced by Dan Pashman. Our intern is Sally Tamarkin.