The Culture Gabfest, "Don't Drive Like My Brother" Edition
Listen to Slate's show about Ridley Scott's Prometheus, the story of sexual abuse at the Horace Mann School, and the end of NPR's Car Talk.
Posted Wednesday, June 13, 2012, at 2:33 PM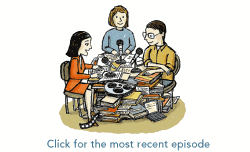 Listen to Culture Gabfest No. 195 with Stephen Metcalf, John Swansburg, and Julia Turner by clicking the arrow on the audio player below:
On this week's Culture Gabfest, our critics make sense of Ridley Scott's Alien prequel Prometheus, considering its philosophical questions as well as its monsters and robots. They then discuss Amos Kamil's New York Times Magazine cover story about sexual abuse at The Horace Mann School. Finally, they consider the end of NPR's popular show Car Talk and the transcendent appeal and charm of its hosts, Click and Clack, the Tappet brothers.
Here are some links to the things we discussed this week:
Outro: Duke Ellington's "A Little Max"
MYSLATE
Stephen Metcalf is Slate's critic at large. He is working on a book about the 1980s.
John Swansburg is Slate's editorial director. Email him or follow him on Twitter.
Julia Turner is Slate's deputy editor and a regular on Slate's Culture Gabfest podcast.
You can email her at juliaslateturner at gmail.com or follow her on Twitter at http://twitter.com/juliaturner.