The Culture Gabfest, "Dana's Power Alley" Edition
Listen to Slate's show about The Lorax, GCB, and Dutch wax prints.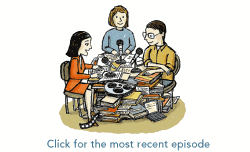 Listen to Culture Gabfest No. 181 with Julia Felsenthal, Stephen Metcalf, Dana Stevens, and Julia Turner by clicking the arrow on the audio player below:
The Slate Culture Gabfest is coming to Los Angeles on March 20, in partnership with Zócalo Public Square. Our special guest will be Elizabeth Banks. Tickets are sold out.
This episode of the Slate Culture Gabfest is brought to you by Netflix. Watch thousands of TV episodes and movies on your PC, Mac, iPad, iPhone, or TV instantly. All streamed directly to you, saving you time, money and hassle. For your free 30-day trial, go to netflix.com/slate.
In this week's Culture Gabfest, our critics cut The Lorax down to size. Next, Gabfesters weigh in on the new ABC series GCB, starring Kristin Chenoweth. Finally, the Gabfest is joined by Slate's design columnist Julia Felsenthal to discuss the curious history of the "African" fabrics knows as Dutch wax prints.

Here are some links to the things we discussed this week:
Slate's David Haglund on the politics of The Lorax.
The New York Times' review of The Lorax.
The Atlantic's round up of all the negative reviews of The Lorax.
Dr. Seuss' original children's book remains an enduring classic.
The Lorax's very orange official site.
Slate's Troy Patterson reviews GCB.
The New York Times' feature piece on GCB.
NPR's interview with GCB star Kristin Chenoweth.
Kim Gatlin's original novel Good Christian Bitches.
GCB's official site.
Julia Felsenthal's Slate article and slideshow on Dutch wax prints.
Vlisco's remarkable collection of authentic Dutch wax prints.
Arnhem's Museum of Modern Art in The Netherlands is now featuring an exhibit on Dutch wax prints.
Teen Vogue's Hayley Phelan called "African fabrics" a Spring 2011 runway trend.