Slate's Culture Gabfest, Live in Los Angeles!
Join us on March 20.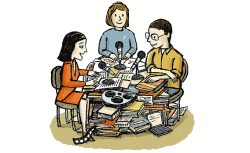 For the first time ever, a Slate podcast will be performing live in Los Angeles! The Culture Gabfest is coming to the Peterson Automotive Museum on March 20 for a live taping hosted by Zócalo. Tickets are free, and our special guest for the evening will be actress Elizabeth Banks. There will be free cocktails on the museum's roof after the show.
TODAY IN SLATE
Medical Examiner
Here's Where We Stand With Ebola
Even experienced international disaster responders are shocked at how bad it's gotten.