The Culture Gabfest, "Don We Now Our Gay Apparel" Edition
Listen to Slate's show about The Muppets, home decor, and Christmas carols.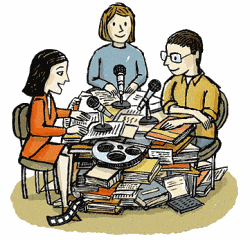 Listen to Culture Gabfest No. 167 with Stephen Metcalf, Deborah Needleman, John Swansburg, and Julia Turner by clicking the arrow on the audio player below or opening this player in another tab:
In this week's Culture Gabfest, our critics Stephen Metcalf, John Swansburg, and Julia Turner meet The Muppets, again. Next, they are joined by author Deborah Needleman to discuss her new book on decorating, The Perfectly Imperfect Home. For their final segment Gabfesters come a-wassailing with their favorite Christmas carols.

Here are some links to the things we discussed this week:
Advertisement

TODAY IN SLATE
The Extraordinary Amicus Brief That Attempts to Explain the Wu-Tang Clan to the Supreme Court Justices
The Human Need to Find Connections in Everything
It's the source of creativity and delusions. It can harm us more than it helps us.