The Culture Gabfest, "The Paranoid Style in American Podcasting" Edition
Listen to Slate's show about 9/11 conspiracy theories, the iPhone app Instagram, and Suits on the USA Network.
Updated Wednesday, Sept. 14, 2011, at 12:43 AM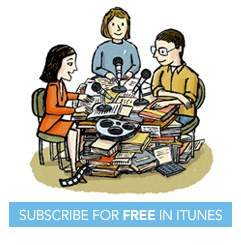 Listen to Culture Gabfest No. 155 with Stephen Metcalf, Jeremy Stahl, June Thomas and Julia Turner, by clicking the arrow on the audio player below or opening this player in another tab:
In this week's Culture Gabfest, our critics Stephen Metcalf, June Thomas, and Julia Turner speak with Slate social media editor Jeremy Stahl about his new Slate series on 9/11 conspiracy theories. Next, our critics take a verbal snapshot of the retro-photography trend and the popular iPhone app Instagram. For their final segment, the Gabfesters weigh in on the USA Network's new law firm comedy Suits.
Here are some links to the things we discussed this week:
The Culture Gabfest weekly endorsements:
MYSLATE
June Thomas is a Slate culture critic. Follow her on Twitter.

Stephen Metcalf is Slate's critic at large. He is working on a book about the 1980s.
Jeremy Stahl is Slate's social media editor. You can follow him on Twitter.
Julia Turner is Slate's deputy editor and a regular on Slate's Culture Gabfest podcast.
You can email her at juliaslateturner at gmail.com or follow her on Twitter at http://twitter.com/juliaturner.
Illustration by Robert Neubecker.