The Culture Gabfest, "Hail Caesar" Edition
Listen to Slate's show about Rise of the Planet of the Apes, the state of the book review, and the return of the '90s.
Posted Wednesday, Aug. 10, 2011, at 1:33 PM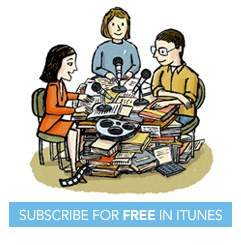 Listen to Culture Gabfest No. 151 with Stephen Metcalf, Dana Stevens, Julia Turner, and Carl Wilson by clicking the arrow on the audio player below or opening this player in another tab:
Don't miss a single episode of the Culture Gabfest. Subscribe to the  free Culturefest podcast in iTunes or directly with  our RSS feed. You can also download this week's episode  here. And join the lively conversation on the Culturefest Facebook here:
This podcast is brought to you by Bing. Wondering which summer movie to see? Which summer festival to go to? Which new album to buy? Bing will help you decide. Just click the "entertainment" button on the Bing home page to get the latest on music, movies, TV, and video games. Plus, with Bing's social search feature, your Facebook friends' "likes" will show up right there on your Bing search results. The Culture Gabfest thanks Bing for its support.
In this week's Culture Gabfest, our critics Stephen Metcalf, Dana Stevens, and Julia Turner discuss the new movie Rise of the Planet of the Apes, starring motion-capture master Andy Serkis as a chimpanzee named Caesar. Next, they discuss the current state of the book review, especially in light of a recent British lawsuit awarding 65,000 pounds in damages to compensate for a negative review. For their final segment, they're joined by Let's Talk About Love author Carl Wilson to discuss his NYT "Riff" on "The Gen-X Nostalgia Boom."

Here are some links to the things we discussed this week:

The Culture Gabfest's "Dry T-Shirt Contest," where you can view designs (send votes to culturefest@slate.com)
The official site of the new movie Rise of the Planet of the Apes
Dana's review and Spoiler Special for Rise of the Planet of the Apes
Brow Beat on "Can a Motion-Capture Performer Win An Oscar?"
Torie Bosch's "Future Tense" article on real Apes-style neuroenhancement research
A making-of featurette on how Weta and Andy Serkis brought Apes to life
Francis Wheen's FT article on the author awarded 65,000 pounds in damages from a negative review
Robert Pinsky's Slate article on a Keats hatchet job and "How Not To Write a Book Review"
Christopher Hitchens' takedown of David Mamet in the NYT Book Review
The official site of literary magazine The Believer
The Wikipedia pages for writers Stephen Spender and Cyril Connolly
Carl Wilson's NYT "Riff" on the uses of nostalgia and the return of the 90s
Sean Fennessey's GQ article on the 1990s as "The Decade That Won't Die"
Brian Stelter's NYT article on Nickelodeon's new "The '90s Are All That" late-night block
Francis Fukuyama's argument that the end of the Cold War was "The End of History"

The Culture Gabfest weekly endorsements:

Dana's picks: The making-of featurette about Andy Serkis' performance as Gollum from the Lord of the Rings box set (you can also find behind-the-scenes footage of that performance on YouTube), and Dave Davies' interview with Andy Serkis on NPR's Fresh Air.
Julia's pick: The "Oh, it looks good!" meme from Conan. (You can catch up with "Oh, it looks good!" on YouTube.)
Carl's pick: James Mollison's NYT photo gallery of "Where Children Sleep" (featuring photographs from his book of the same title).
Steve's picks: Cecil Day-Lewis' poem "On Not Saying Everything," indie band Geographer's video for "Wake With Me," and wood oven bakery Pizza On Earth in Charlotte, Vt.

Outro: "Smells Like Teen Spirit" by Nirvana

You can e-mail us at culturefest@slate.com.

This podcast was produced by Jesse Baker. Our intern is Forrest Wickman.
MYSLATE
Stephen Metcalf is Slate's critic at large. He is working on a book about the 1980s.
Dana Stevens is Slate's movie critic. Email her at slatemovies@gmail.com or follow her on Twitter.
Julia Turner is Slate's deputy editor and a regular on Slate's Culture Gabfest podcast.
You can email her at juliaslateturner at gmail.com or follow her on Twitter at http://twitter.com/juliaturner.
Carl Wilson is a writer and editor at the Globe and Mail in Toronto and part of the group culture blog Backtotheworld.net.
Illustration by Robert Neubecker.