The Culture Gabfest, "Vulture Epaulets" Edition
Listen to Slate's show about the final Harry Potter film, Facebook competitor Google+, and the Alexander McQueen exhibit at the Met.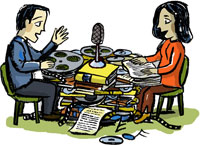 Listen to Culture Gabfest No. 148 with Simon Doonan, Dan Kois, Stephen Metcalf, Dana Stevens, and Julia Turner by clicking the arrow on the audio player below or  opening this player in another tab:


Don't miss a single episode of the Culture Gabfest. Subscribe to the  free Culturefest podcast in iTunes or directly with  our RSS feed. You can also download this week's episode  here. And join the lively conversation on the Culturefest Facebook here:
This podcast is brought to you by Bing. Wondering which summer movie to see? Which summer festival to go to? Which new album to buy? Bing will help you decide. Just click the "entertainment" button on the Bing home page to get the latest on music, movies, TV and video games. Plus, with Bing's social search feature, your Facebook friends' "likes" will show up right there on your Bing search results. The Culture Gabfest thanks Bing for its support.
In this week's Culture Gabfest, our critics Stephen Metcalf, Dana Stevens, and Julia Turner are joined by Slate contributor Dan Kois to discuss the final chapter of the Harry Potter film series, Harry Potter and the Deathly Hallows: Part 2. For their next segment, they discuss Google's new social network Google+. Finally, they're joined by Slate columnist and Barneys creative ambassador Simon Doonan to discuss fashion designer Alexander McQueen and the Metropolitan Museum of Art's hot new exhibit Alexander McQueen: Savage Beauty.
Here are some links to the things we discussed this week:
The Culture Gabfest weekly endorsements:
Outro: "Pretty Baby" by Blondie.
This podcast was produced by Jesse Baker. Our intern is Forrest Wickman.