The Culture Gabfest, "Vulture Epaulets" Edition
Listen to Slate's show about the final Harry Potter film, Facebook competitor Google+, and the Alexander McQueen exhibit at the Met.
Posted Wednesday, July 20, 2011, at 11:14 AM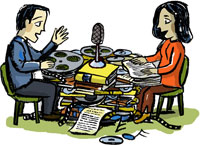 This podcast was produced by Jesse Baker. Our intern is Forrest Wickman.
MYSLATE
Simon Doonan is an author, fashion commentator, and creative ambassador for Barneys New York.(Photo by Roxanne Lowit.)
Dan Kois is a senior editor at Slate and a contributing writer to the New York Times Magazine.
Stephen Metcalf is Slate's critic at large. He is working on a book about the 1980s.
Dana Stevens is Slate's movie critic. Email her at slatemovies@gmail.com or follow her on Twitter.
Julia Turner is Slate's deputy editor and a regular on Slate's Culture Gabfest podcast.
You can email her at juliaslateturner at gmail.com or follow her on Twitter at http://twitter.com/juliaturner.
Illustration by Robert Neubecker.