The Culture Gabfest, "The Bite Is a Gift" Edition
Listen to Slate's show about "cultural vegetables," MTV's new series Teen Wolf, and the latest debate over the value of college in America.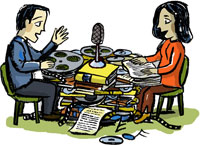 Listen to Culture Gabfest No. 142 with Stephen Metcalf, Dana Stevens, and Julia Turner by clicking the arrow on the audio player below:


This podcast is brought to you by FreshBooks, the easy online invoicing service that gets you paid quickly and makes you look professional. Get started with a free package at FreshBooks.com. That's FreshBooks.com for easy online invoicing, and tell them Slate sent you.
In this week's Culture Gabfest, our critics Stephen Metcalf, Dana Stevens, and Julia Turner discuss the critical smackdown over Dan Kois' NYT Magazine riff on " Eating Your Cultural Vegetables," MTV's new Twilight­-style series Teen Wolf, and Louis Menand's recent New Yorker article on " Debating the Value of College in America."

Here are some links to the things we discussed this week:

Dan Kois' NYT Magazine riff on " Eating Your Cultural Vegetables."
A.O. Scott and Manohla Dargis' New York Times " Defense of the Slow and the Boring."
Richard Brody's response to Kois on his Front Row blog at The NewYorker.
Dana's review of Kelly Reichardt's stripped-down revisionist Western Meek's Cutoff.
The Wiki for Jean-Luc Godard's 2010 movie Film Socialisme.
David Foster Wallace's essay on luxury cruises " A Supposedly Fun Thing I'll Never Do Again."
An explanation of the literary concept of the mimetic fallacy.
The official Web site of MTV's Teen Wolf, where you can stream the first episode in full.
Troy Patterson's review of Teen Wolf in Slate.
Alex Pappademas' New York Times Magazine cover feature on Teen Wolf.
Dana's review of 2010 werewolf movie The Wolfman in Slate.
Teen Wolf director Richard Mulcahy's music video for " Hungry Like the Wolf."
Louis Menand's New Yorker article on " Debating the Value of College in America."
Daniel B. Smith's New York feature " The University Has No Clothes."
Professor X's Atlantic articles on whether college is necessary for everyone.
Slate's Jacob Weisberg on Peter Thiel's campaign against college.

The Culture Gabfest weekly endorsements:

Dana's pick: Monday night's episode of The Colbert Report, and especially Colbert's re-enactment of the ride of Paul Revere according to Sarah Palin and his interview with director Werner Herzog.
Julia's pick: Instead of an endorsement, Julia is putting out a call for the best new summer jams that will get her pumped to attack her Outlook inbox. Listeners can nominate their favorites on the Culturefest Facebook page.
Steve's picks: James Kwak's blog The Baseline Scenario (and in particular his takedown of a recent Stephen Carter Bloomberg column), the graph-heavy economics blog The Street Light, and his new Dunderdon pants ("less like wearing a pant than standing in warm water and being nibbled at by tiny beneficent fish").

Outro: "Hungry Like The Wolf" by Duran Duran.

You can e-mail us at culturefest@slate.com.

This podcast was produced by Jesse Baker. Our intern is Forrest Wickman.
TODAY IN SLATE
Politics
Talking White
Black people's disdain for "proper English" and academic achievement is a myth.
Operation Backbone
How White Boy Rick, a legendary Detroit cocaine dealer, helped the FBI uncover brazen police corruption.