The Culture Gabfest, "Summer Strut" Edition
Listen to Slate's show about the new New York Times documentary Page One, Robert Nozick, and great summer jams to kick-start your day.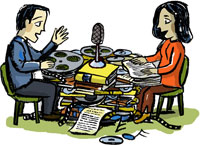 The Culture Gabfest weekly endorsements:
Outro: "Summertime" by the Sundays.
This podcast was produced by Andy Bowers. Our intern is Forrest Wickman.
Correction, June 23, 2011: This article originally misidentified the New York Times Book Review. (Return to the corrected sentence.)