The Culture Gabfest, "I'm Doing The World a Favor" Edition
Listen to Slate's show about J.J. Abrams' Super 8, viral book Go the F**k to Sleep, and the latest in America's battle over bike lanes.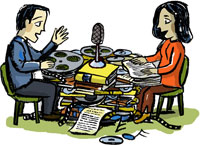 Listen to Culture Gabfest No. 143 with Stephen Metcalf, Dana Stevens, and Julia Turner by clicking the arrow on the audio player below or opening this player in another tab:
This podcast is brought to you by Bing. Wondering which summer movie to see? Which summer festival to go to? Which new album to buy? Bing will help you decide. Just click the "entertainment" button on the Bing home page to get the latest on music, movies, TV and video games. Plus, with Bing's social search feature, your Facebook friends' "likes" will show up right there on your Bing search results. The Culture Gabfest thanks Bing for its support.
In this week's Culture Gabfest, our critics Stephen Metcalf, Dana Stevens, and Julia Turner discuss J.J. Abrams' new Spielberg-inspired sci-fi adventure film Super 8, Adam Mansbach's viral book blockbuster Go the Fuck to Sleep, and the YouTube video that's rekindling America's battle over bike lanes.
Here are some links to the things we discussed this week:
The Culture Gabfest weekly endorsements:
Outro: "Bonafied Lovin" by Chromeo.
This podcast was produced by Jesse Baker. Our intern is Forrest Wickman.
TODAY IN SLATE
Politics
Blacks Don't Have a Corporal Punishment Problem
Americans do. But when blacks exhibit the same behaviors as others, it becomes part of a greater black pathology.
Lifetime Didn't Think the Steubenville Rape Case Was Dramatic Enough
So they added a little self-immolation.