The Culture Gabfest "Tacky but Vigorous" Edition
Listen to Slate's show about global reactions to the arrest of Dominique Strauss-Kahn, Eurotrash at the Eurovision Song Contest, and the raunchy new comedy Bridesmaids.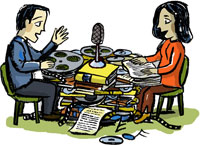 Listen to Culture Gabfest No. 139 with Cécile Dehesdin, Simon Doonan, Stephen Metcalf, Dana Stevens, and June Thomas by clicking the arrow on the audio player below:


This podcast is brought to you by FreshBooks, the easy online invoicing service that gets you paid quickly, and makes you look professional. Get started with a free package at FreshBooks.com. That's FreshBooks.com for easy online invoicing, and tell them Slate sent you.
Here are some links to the things we discussed this week: