The Culture Gabfest, "Daddy, Can I Keep This Direwolf?" Edition
Listen to Slate's show about HBO's new fantasy series Game of Thrones, Will Ferrell's going-away party for Steve Carell on The Office, and the new documentary about "On the Street" photographer Bill Cunningham.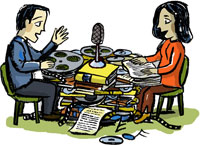 Listen to Culture Gabfest No. 135 with Nina Shen Rastogi, John Swansburg, Dana Stevens, and Julia Turner by clicking the arrow on the audio player below:
You can also download the program  here, or you can subscribe to the weekly Culture Gabfest podcast feed  via iTunes or directly with our   RSS feed. Find the Culturefest Facebook page   here. Leave us a note and see what other listeners have to say about the latest podcast.
The Slate Culture Gabfest is brought to you by Starbucks. With over 87,000 drink combinations, Starbucks makes your signature espresso just the way you want it. Create yours at  www.mystarbuckssignature.com.
In this week's Culture Gabfest, our critics Dana Stevens and Julia Turner are joined by Slateculture blogger Nina Shen Rastogi to discuss HBO's new fantasy series Game of Thrones and Will Ferrell's send-off for Steve Carell on The Office. They're then joined by Slateculture editor John Swansburg to discuss New York Times "On the Street" photographer Bill Cunningham and the new documentary Bill Cunningham New York.
Here are some links to the things we discussed this week:
Advertisement

The Culture Gabfest weekly endorsements:
Outro: "Voices Carry" by 'Til Tuesday.
This podcast was produced by Jesse Baker. Our intern is Forrest Wickman.
Politics
The GOP's Border War Donald Trump and Jeb Bush are polar opposites on immigration. Where on the spectrum will the GOP fall?
Metropolis
Our Impoverished Debate About Housing Segregation We need to do better than breaking up "concentrated poverty." We need to actually understand it.