The Culture Gabfest, "Daddy, Can I Keep This Direwolf?" Edition
Listen to Slate's show about HBO's new fantasy series Game of Thrones, Will Ferrell's going-away party for Steve Carell on The Office, and the new documentary about "On the Street" photographer Bill Cunningham.
Posted Wednesday, April 20, 2011, at 12:16 PM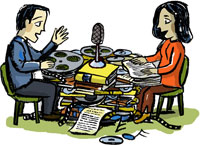 This podcast was produced by Jesse Baker. Our intern is Forrest Wickman.
MYSLATE