The Culture Gabfest, "Daddy, Can I Keep This Direwolf?" Edition
Listen to Slate's show about HBO's new fantasy series Game of Thrones, Will Ferrell's going-away party for Steve Carell on The Office, and the new documentary about "On the Street" photographer Bill Cunningham.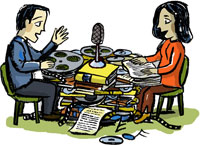 This podcast was produced by Jesse Baker. Our intern is Forrest Wickman.