The Culture Gabfest, "Tear Down This Pay Wall" Edition
Listen to Slate's show about Rupert Murdoch's iPad newspaper The Daily, HBO's Reagan documentary, and the Google Art Project.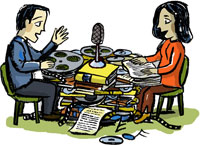 Listen to Culture Gabfest No. 125 with Stephen Metcalf, Dana Stevens, and Julia Turner by clicking the arrow on the audio player below:
You can also download the program  here, or you can subscribe to the weekly Culture Gabfest podcast feed  via iTunes or directly with our   RSS feed. Find the Culturefest Facebook page   here. Leave us a note and see what other listeners have to say about the latest podcast.
This episode is brought to you by Squarespace, the fast and easy way to create and manage a high-quality Web site or blog. Create a Web site that's uniquely you, all in the design and colors of your choice.For a free trial, click here, or go to Squarespace.com/slate.
Also, don't forget to vote for your favorite selection for Slate's March Audio Book Club. Your choices are The Unnamed by Joshua Ferris, Swamplandia! by Karen Russell, and True Grit by Charles Portis. Learn more and vote for your favorite nominee here.
Finally, the Culture Gabfest is going to the opera. The Culture Gabfest will soon discuss John Adams'Nixon in China, now running at the Metropolitan Opera and broadcast live in HD in more than 1,000 movie theaters in 43 countries on Feb. 12. If you'd like to see the opera, you can buy tickets here.
In this week's Culture Gabfest, our critics Stephen Metcalf, Dana Stevens and Julia Turner discuss Rupert Murdoch's new iPad newspaper The Daily, Eugene Jarecki's new HBO documentary Reagan, and the virtual museum tours of the Google Art Project.
Here are some links to the things we discussed this week:
The Culture Gabfest weekly endorsements:
Outro: "Tonight Will Be Fine," as performed by Leonard Cohen, and then as covered by Teddy Thompson.
This podcast was produced by Jesse Baker. Our intern is Forrest Wickman.