The Culture Gabfest, "Things That Won't Die" Edition
Slate's Culture Gabfest on the Rally To Restore Sanity, The Walking Dead, and Sherlock.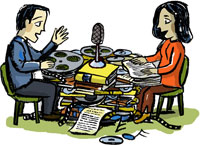 Listen to Culture Gabfest No. 111 with Stephen Metcalf, Dana Stevens, Julia Turner, and June Thomas by clicking the arrow on the audio player below:
You can also download the program  here, or you can subscribe to the weekly Culture Gabfest podcast feed  via iTunes or directly with our   RSS feed. Find the Culturefest Facebook page here. Leave us a note and see what other listeners have to say about the latest podcast.
This episode is brought to you by Carbonite, the leader in online backup. Carbonite backs up your files automatically, whenever you connect to the Internet. Try Carbonite for free. Go to Carbonite.com, and enter offer code SLATE. If you decide to buy the service (after the trial), you'll get two months free with offer code SLATE.
In this week's Culture Gabfest, our critics discuss Jon Stewart and Stephen Colbert's Rally To Restore Sanity and/or Fear, AMC's new zombie apocalypse show The Walking Dead, and Masterpiece Mystery's irreverent new 21st century adaptation of Sherlock.
Here are links to some of the articles and other items mentioned in the show:
Visit the official page for the Rally To Restore Sanity and/or Fear.
Troy Patterson catalogs the high and low points of the rally in Slate.
AMC's official site for The Walking Dead.
Slate's Josh Levin tries to figure out how modern zombies got so fast. *
Tim Cavanaugh reviewsThe Walking Dead and Dead Set in Slate.
The official site for Masterpiece's Sherlock, now airing on PBS in the United States.
Nathan Heller's slide show in Slate knocking last year's Sherlock Holmes and other adaptations for "crimes against the character."
bc-online.co.uk, a fan site honoring Sherlock's delightfully named star, Benedict Cumberbatch.
The Culture Gabfest weekly endorsements:
Dana's pick: Turner Classic Movies' film-school-in-a-month series Moguls and Movie Stars.
Julia's picks: 1) Unofficial opening titles for The Walking Dead made by fan Daniel Kanemoto, and 2) troubled New York-based discount clothing store Loehmann's.
June's pick: The Secret Historian, a biography of sexual experimenter, tattoo artist, and novelist Samuel Steward, by Justin Spring.
Stephen's pick: "Waltze of the Tennis Players/Armstrong Tourest Rest Home/Fraser & DeBolt Theme," a trio of songs by early-70s Canadian folk duo Fraser & DeBolt that appears on a compilation CD called "Music from Obscuristan.
Podcast production by Jacob Ganz.
Correction, Nov. 3, 2010: This article originally misspelled Josh Levin's last name. (Return to the corrected line.)