The Culture Gabfest, "A Farewell to Arm" Edition
Listen to Slate's Culture Gabfest  on Conan's return, James Franco, and the errors in Yale's Anthology of Rap.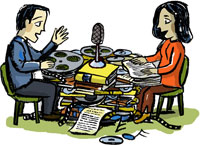 Listen to Culture Gabfest No. 112 with Stephen Metcalf, Dana Stevens, John Swansburg, and Julia Turner by clicking the arrow on the audio player below:


This episode is brought to you by Carbonite, the leader in online backup. Carbonite backs up your files automatically, whenever you connect to the Internet. Try Carbonite for free. Go to  Carbonite.com, and enter offer code SLATE. If you decide to buy the service (after the trial), you'll get two months free with offer code SLATE.
Get tickets to our live show in Seattle at www.slate.com/seattle

Get tickets to the Nov. 17 live Hang Up and Listen sports podcast in Raleigh, N.C., at www.slate.com/ncstate

In this week's Culture Gabfest, our critics Stephen Metcalf, Dana Stevens, and Julia Turner discuss Conan's return, 127 Hours, and the many facets of James Franco, and are joined by John Swansburg to discuss the errors in Yale University Press' Anthology of Rap.

Here are some links to the things we discussed this week:

Troy Patterson's review of Conan's comeback in Slate.
The cold open from Monday night's Conan is here.
Watch Conan's action-packed promo, plus see him give his desk a scrub in this ad.
The New York Times' Bill Carter's new book The War for Late Night: When Leno Went Early and Television Went Crazy.
New York's piece on Jimmy Fallon's reinvention of late-night comedy.
The latest stories on Taxi TV (what New Yorkers are confronted with every time they get into a cab.)
Dana's review and spoiler special on Danny Boyle's latest film, 127 Hours, in Slate.
See the New York Times video on the real life Aaron Ralston here.
Aaron Ralston's book Between a Rock and a Hard Place was the basis of Danny Boyle's film.
Paul Devlin's piece for Slate on inaccurately transcribed lyrics in the new Anthology of Rap.
Read Sam Anderson's take on the new anthology in New York and then see what happens when NPR asks him to actually listen to the music.
The Culture Gabfest weekly endorsements: