The Culture Gabfest, "Toast to the Douchebags" Edition
Listen to Slate's show about the VMAs, Machete, and the rest of week in culture.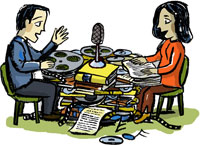 Listen to Culture Gabfest No. 104 with Stephen Metcalf, Dana Stevens and Julia Turner by clicking the arrow on the audio player below:


You can also download the program  here, or you can subscribe to the weekly Culture Gabfest podcast feed  via iTunes or directly with our   RSS feed. Find the Culturefest Facebook page   here. Leave us a note and see what other listeners have to say about the latest podcast.


This episode is brought to you by Carbonite, the leader in online backup. Carbonite backs up your files automatically, whenever you connect to the Internet. Try Carbonite for free. Go to  Carbonite.com, and enter offer code SLATE. If you decide to buy the service (after the trial), you'll get two months free with offer code SLATE.
In this week's Culture Gabfest, our critics Stephen Metcalf, Dana Stevens, and Julia Turner are joined by Slate's Jody Rosen to discuss Kanye West's VMA face-off with Taylor Swift. They also assess the new Robert Rodriguez film Machete and Craigslist's decision to pull its adult services ads.
Here are some links to the things we discussed this week:
The Culture Gabfest weekly endorsements:
Watch June and Dana's video endorsement:
Outro: Taylor Swift's "Mine"