The Culture Gabfest, "Eat Pray Vomit" Edition
Listen to Slate's show about Eat Pray Love and the rest of the week in culture.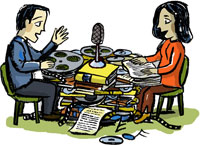 Listen to Culture Gabfest No. 100 with Stephen Metcalf, Dana Stevens, and Julia Turner by clicking the arrow on the audio player below:
You can also download the program  here, or you can subscribe to the weekly Culture Gabfest podcast feed  via iTunes or directly with our   RSS feed. Find the Culturefest Facebook page   here. Leave us a note and see what other listeners have to say about the latest podcast.
This episode is brought to you by Carbonite, the leader in online backup. Carbonite backs up your files automatically, whenever you connect to the Internet. Try Carbonite for free. Go to  Carbonite.com, and enter offer code SLATE. If you decide to buy the service (after the trial), you'll get two months free with offer code SLATE.

In this week's Culture Gabfest, our critics Stephen Metcalf, Dana Stevens, and Julia Turner discuss Julia Roberts in Eat Pray Love, the sanctity of academic tenure, and the Starbucks multigrain-bagel standoff on the Upper West Side. 
 
Here are some links to the things we discussed this week:

Read Dana's review of Eat Pray Love and then listen to the Spoiler Special for Slate.
Stephen and Julia discuss Elizabeth Gilbert's memoir for Slate's "Audio Book Club."
Elizabeth Gilbert's official Web site.
Christopher Beam makes the case against tenure for Slate.
The Starbucks bagel dust-up in the New York Post.
Watch Paul Rudd's Starbucks rant from Role Models here.
The Culture Gabfest weekly endorsements:
Outro: Billy Holiday's "Strange Fruit."
Posted on Aug. 18 by Jesse Baker at 10:30 a.m.