The Culture Gabfest, "Do Not Go Gently" Edition
Listen to Slate's show about the week in culture.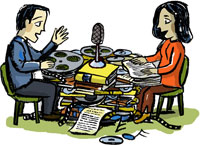 Listen to Culture Gabfest No.94 with Stephen Metcalf, Jody Rosen, Dana Stevens, and Julia Turner by clicking the arrow on the audio player below:
You can also download the program  here, or you can subscribe to the weekly Culture Gabfest podcast feed   via iTunes  or directly with our   RSS feed. Find the Culturefest Facebook page   here. Leave us a note and see what other listeners have to say about the latest podcast.
This podcast is brought to you by SquareSpace.com, the fast and easy way to publish a high-quality Web site or blog. For a free trial and 10 percent off your new account, go to Squarespace.com and use the code CULTUREGABFEST when you sign up for a new account.


In this week's Culture Gabfest, our critics Stephen Metcalf, Jody Rosen, Dana Stevens, and Julia Turner discuss the age when novelists hit their prime, the latest single from Liz Phair (she raps!), and the end of music writer Robert Christgau's "Consumer Guide." 

Here are some links to the things we discussed this week:
Outro: Peter Cetera's "The Glory of Love"

You can e-mail us at  culturefest@slate.com.

Posted on July 7 by Jesse Baker at 11:15 a.m.