The Culture Gabfest, "The Girl With the Wealth of Boring Details" Edition
Listen to Slate's show about the week in culture.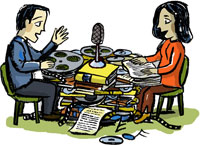 Listen to Culture Gabfest No. 90 with Michael Agger, Stephen Metcalf, Dana Stevens and Julia Turner by clicking the arrow on the audio player below:
You can also download the program  here, or you can subscribe to the weekly Culture Gabfest podcast feed  via iTunes  or directly with our  RSS feed. Find the Culturefest Facebook page here. Leave us a note and see what other listeners have to say about the latest podcast.
Get your 14-day free trial from our sponsor Audible.com, which includes a credit for one free audiobook,  here. (Audiobook of the week: Paris to the Moon, written and narrated by Adam Gopnik.)
In this week's Culture Gabfest, our critics Michael Agger, Stephen Metcalf, Dana Stevens, and Julia Turner try to determine what's so great about author Stieg Larsson's Swedish trilogy, whether the Internet is making us dumber (Part 2), and how Americans really feel about the World Cup.

Here are some links to the things we discussed this week:

The New York Times profile of Swedish author Stieg Larsson.
In Salon, Laura Miller tries to figure out why Larsson now dominates the world.
Nicholas Carr's article in Wired on what the Internet might be doing to your brain.
Michael Agger's explanation of how we read online and his review of Carr's new book The Shallowson Slate.
A New York Times game that tests your focus and its article on what computers do to your head.
Nike's new World Cup ad and ESPN's Thomas Paine ad.
Seth Stevenson's ode to the great Nike ad.

The Culture Gabfest weekly endorsements:
Musical outro: The Spinanes "Winter on Ice"