The Culture Gabfest, "Old Ball and Chain" Edition
Listen to Slate's show about the week in culture.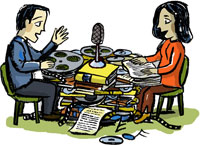 Listen to Culture Gabfest No. 91 with Stephen Metcalf, Hanna Rosin, Dana Stevens,and Julia Turner by clicking the arrow on the audio player below:
You can also download the program  here, or you can subscribe to the weekly Culture Gabfest podcast feed  via iTunes  or directly with our  RSS feed.Find the Culturefest Facebook page here. Leave us a note and see what other listeners have to say about the latest podcast.
Get your 14-day free trial from our sponsor Audible.com, which includes a credit for one free audio book,  here. (Audiobook of the week: Still Talking written by Joan Rivers and Richard Meryman, narrated by Joan Rivers.)
In this week's Culture Gabfest, our critics Stephen Metcalf, Hanna Rosin, Dana Stevens, and Julia Turner discuss the new Joan Rivers documentary A Piece of Work,  the Bravo reality show Work of Art,and Hanna Rosin's Atlanticarticle on "the end of men."

Here are some links to the things we discussed this week:

The official site for the new Joan Rivers documentary.
A complete list of cities where you can see A Piece of Work.
Bravo's official site for  Work of Art.
Work of Art  recaps  in New York's Web site by judge (and New York art critic) Jerry Saltz.
The Brooklyn Museum's attendance problem as depicted in The New York Times.
Hanna Rosin's article in The Atlantic  on the end of the male-dominated world.
Through the Labyrinth: The Truth About How Women Become Leaders  by Alice Eagly and Linda Carli.
The Culture Gabfest weekly endorsements: