The Culture Gabfest, "Maximum Fun" Edition
Listen to Slate's show about the week in culture.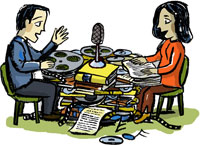 Listen to Culture Gabfest No. 92 with Stephen Metcalf, Dana Stevens, Clive Thompson, and Julia Turner by clicking the arrow on the audio player below:

You can also download the program  here, or you can subscribe to the weekly Culture Gabfest podcast feed  via iTunes  or directly with our  RSS feed. Find the Culturefest Facebook page  here. Leave us a note and see what other listeners have to say about the latest podcast.
Get your 14-day free trial from our sponsor Audible.com, including a credit for one free audiobook,  here. (Audiobook of the week: Moby Dick, written by Herman Melville and narrated by Anthony Heald.)
In this week's Culture Gabfest, our critics Stephen Metcalf, Dana Stevens, and Julia Turner discuss the third installment of Disney-Pixar's Toy Story and the science of taking a great vacation. They're joined by Clive Thompson to discuss Watson, the IBM supercomputer that can beat humans at Jeopardy!

Here are some links to the things we discussed this week:

The official  site  for Toy Story 3.
Dana's review and spoiler special for  Toy Story 3  in Slate.
The New York Times' critic  A.O. Scott  on the movie.
The Boston Globe's article on the science of taking a  relaxing vacation.
Paul Bloom and Peter D. Kramer break down  pleasure  in Slate.
I.B.M's supercomputer vs. Jeopardy!  in the New York Times Magazine.
The Culture Gabfest weekly endorsements: