The Culture Gabfest, "Beauty in the Sky" Edition
Listen to Slate's show about the week in culture.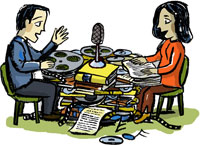 Listen to Culture Gabfest No. 93 with Daniel Engber, Stephen Metcalf, Troy Patterson, Dana Stevens, James Sturm, June Thomas, and Julia Turner by clicking the arrow on the audio player below:
You can also download the program  here, or you can subscribe to the weekly Culture Gabfest podcast feed  via iTunes  or directly with our  RSS feed. Find the Culturefest Facebook page  here. Leave us a note and see what other listeners have to say about the latest podcast.
Get your 14-day free trial from our sponsor Audible.com, which includes a credit for one free audiobook,  here. (Audiobook of the week: WWW.Wake, written by Robert J. Sawyer and narrated by Jessica Almasy, Jennifer Van Dyke, A.C. Fellner, Marc Vietor, and Robert J. Sawyer.)
In this week's Culture Gabfest, our critics invite cartoonist James Sturm on to discuss his four months without the Internet, ask June Thomas why summer TV is better than ever, and host a fight between Troy Patterson and Daniel Engber about whether fireworks are worthwhile.
Musical Outro: Taio Cruz "Dynamite."
Posted by Jesse Baker on June 30 at 11:39 a.m.