The Culture Gabfest, #1 Record Edition
Listen to Slate's show about the week in culture.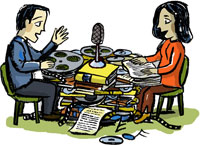 In this week's Culture Gabfest, our critics Mike Pesca, Jody Rosen, Dana Stevens, and Julia Turner discuss the death of Big Star front man Alex Chilton, the Boston Globe's recent attack on music criticism, and Ben Zimmer, William Safire's replacement at the New York Times.
Listen to Culture Gabfest No. 79 with Mike Pesca, Jody Rosen, Dana Stevens and Julia Turnerby clicking the arrow on the media player below:
You can also download the program here, or you can subscribe to the weekly Culture Gabfest podcast feed via iTunesor directly with our RSS feed.
Get your 14-day free trial from our sponsor Audible.com, which includes a credit for one free audiobook, here. (Audiobook of the week: The Post-Birthday World, written by Lionel Shriver and narrated by Tanya Eby-Sirois.) You'll find links to this and previous Culturefest recommendations on our Audible RSS feed.
Find the Culturefest Facebook page here. Leave us a note and see what other Culturefest listeners have to say about the latest podcast.And please help us with the Slate Podcast Pledge Drive—and give yourself a shot to win free movie tickets and a chance to endorse something you love on our show—by sending your Culturefest "conversion story" to culturefest@slate.com. This will be our final week of the contest.
Here are some links to the things we discussed this week:
Remembering Big Star's Alex Chilton on NPR's Fresh Air.
Lyrics to the Replacements song "Alex Chilton."
The Covers Project's list of Big Star covers and covers of Big Star songs.
The official Web page for the Jonas Brothers.
Steve Almond's take on music critics in the Boston Globe and Glenn Kenny's response on the blog ARTicles.
The New Yorker's Alex Ross' Radiohead critique.
The New York Times Magazine announcement that Ben Zimmer will take over the "On Language" column.
Ben Zimmer's latest "On Language" column in the New York Times Magazine.
Ben Zimmer's blog, Visual Thesaurus.
William Safire's 2005 column on Bugs Bunny and baseball lingo in the New York Times Magazine.
The Culture Gabfest weekly endorsements:
Posted on March 24 by Jesse Baker at 12:30 p.m.