Play the Slate News Quiz
With Jeopardy! superchampion Ken Jennings.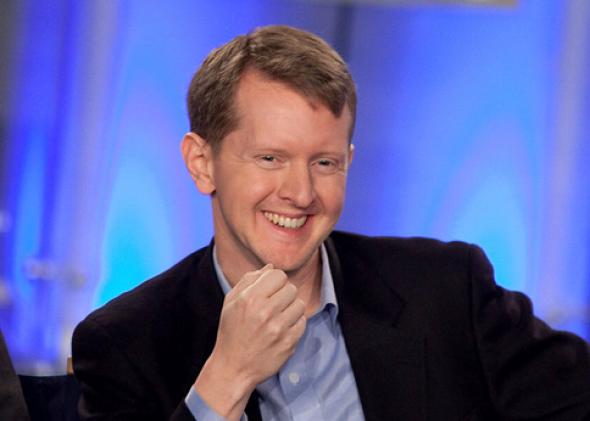 Welcome back to Slate's weekly news quiz. I'm your host, 74-time Jeopardy! winner Ken Jennings.
Every Friday I'll be testing your knowledge with 12 challenging questions on the week's news events, big and small, including happenings in science, sports, politics, and culture both high and low. The questions are multiple-choice, and time is of the essence: You have 30 seconds to answer, and as the seconds tick away, the question's point value drops from 50 all the way down to zero, so you'll want to click on your answer as fast as you possibly can. There's no penalty for an incorrect answer, so feel free to take a guess if your puny human brain fails you.
At the end of the quiz, you'll be able to compare your score with that of the average contestant, as well as to the score of a Slate-ster whom I've talked into taking the quiz on the record. This week's contestant is staff writer Jamelle Bouie, who covers politics, policy, and race for Slate.
Think you can ace my quiz and beat Bouie? Good luck!



The Slate Quiz with quizmaster Ken Jennings


Godzilla returned this week, and Japanese fans complained that he looked too chunky. Also too chunky: a fleet of new trains that cost a French railway over $20 billion—but turned out to be too wide to fit 1,300 of the country's station platforms. The only thing not bulking up this week was the Great Red Spot on Jupiter, which has shrunk in half over the last century. Will your Slate Quiz score shrink this week or pack on a few points? Time to find out.
Question 1
of 12
More than 100 people were arrested at McDonald's headquarters on Wednesday while protesting what?
Question 2
of 12
In what country have once-in-a-century floods displaced tens of thousands of residents—and probably thousands of land mines as well?
Due to record rainfall, the Balkans are experiencing their worst disaster since the wars of the 1990s.
Question 3
of 12
"It is disgraceful and I will not tolerate it, period," said President Obama this week about allegations of negligence and a cover-up in what government agency?
By the department's own reckoning, 23 people have died nationwide due to excessive waits for care at VA hospitals.
Question 4
of 12
On Monday, 11-year-old Lucy Li of Redwood Shores, California, became the youngest person ever to do what?
She beat the second-place qualifier by seven strokes.
Question 5
of 12
What political party, which has governed its country for 50 of the last 60 years, was soundly defeated in elections last week?
Narendra Modi of the BJP, a Hindu nationalist party, was named prime minister of India on Tuesday.
Question 6
of 12
A third case of the potentially fatal disease MERS has been reported in the United States. What is MERS?
Question 7
of 12
After the latest round of recalls, announced Tuesday, what company has now issued recalls on 13.5 million of its products this year?
That's four times the total number of cars GM sold in the U.S. last year. Problems with a defective ignition switch on many of its models have been blamed for 13 deaths.
Question 8
of 12
What drastic proposal was defeated by 76 percent of voters this week in Switzerland?
Like Germany, Italy, and the Scandinavian countries, Switzerland currently has no national minimum wage.
Question 9
of 12
What terrorist organization has been blamed for the two car bombs that killed 118 people at the Terminus market in Jos on Tuesday?
Jos, in central Nigeria, is a city that's been targeted by Boko Haram before.
Question 10
of 12
A survey released last week by the Anti-Defamation League found that, apart from the Middle East, the world's worst anti-Semitism is found where?
Sixty-nine percent of Greeks surveyed harbor anti-Semitic sentiments, according to the survey. That's a considerably higher number than Iran.
Question 11
of 12
Wildfires scorched more than 26,000 acres of hillsides north of what major American city?
The unprecedented drought in California has officials bracing for a long fire season ahead.
Question 12
of 12
Scientists say that 200-year-old dust will be visible this weekend when what happens?
The Earth will pass through debris left behind by Comet 209P/Linear this weekend, the first ever Camelopardalid meteor shower.

May 23, 2014


Anonymous User
Log in to track your scores!
vs.
Jamelle Bouie
Slate staff writer
The scary new Happy Meal mascot
The Securities and Exchange Commission
The Veterans Health Administration
Qualify for the U.S. Women's Open
Receive a bachelor's degree
Clean her room without being asked
Japan's Liberal Democratic Party
Mercury-Elevated Reye's Syndrome, spread by sushi
Multi-Erythromycin Resistant Staphylococcus, spread in hospitals
Middle East Respiratory Syndrome, spread from camels
Maximum Edema Retinal Sclerosis, spread by eyeball contact
Completely open immigration
A new meteor shower is born
Kilimanjaro's icecap melts for the first time
Chinese "yellow winds" blow across the Pacific

Average
0 points

You
0 points

Jamelle Bouie
Slate staff writer
0 points
Answer quickly to earn more points!
Quiz Template by Chris Kirk and Andrew Morgan