Play the Slate News Quiz
With Jeopardy! superchampion Ken Jennings.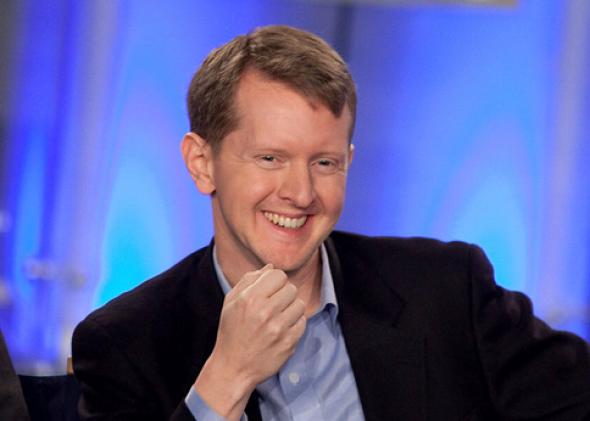 Welcome back to Slate's weekly news quiz. I'm your host, 74-time Jeopardy! winner Ken Jennings.
Every Friday I'll be testing your knowledge with 12 challenging questions on the week's news events, big and small, including happenings in science, sports, politics, and culture both high and low. The questions are multiple-choice, and time is of the essence: You have 30 seconds to answer, and as the seconds tick away, the question's point value drops from 50 all the way down to zero, so you'll want to click on your answer as fast as you possibly can. There's no penalty for an incorrect answer, so feel free to take a guess if your puny human brain fails you.
At the end of the quiz, you'll be able to compare your score with that of the average contestant, as well as to the score of a Slate-ster whom I've talked into taking the quiz on the record. This week's contestant is Seth Stevenson, a frequent contributor to Slate and the author of Grounded: A Down to Earth Journey Around the World.
Think you can ace my quiz and beat Stevenson? Good luck!
The Slate Quiz with quizmaster Ken Jennings
Valentine's Day doesn't have to be so bad. Send yourself a nice balloon bouquet at work; act surprised and pleased when it shows up. Later in the day, as the loneliness becomes overwhelming, console yourself with the Slate News Quiz. Romance may come and go, but an easy familiarity with current events is a love affair that can last a lifetime.
Question 1
of 12
At least three people have been killed and 25 injured in recent nationwide protests demanding "La Salida"—meaning "the exit"—of whom?
Anti-Maduro protests have been going on for weeks, and turned deadly on Wednesday at a student rally in Caracas.
Question 2
of 12
"Don't put your stupid hat on at this point in time," said Gov. Pat McCrory on Wednesday, warning North Carolinians against doing what?
McCrory signed orders declaring a state of emergency in advance of Wednesday's severe ice storm.
Question 3
of 12
Twenty-two members of an al-Qaida splinter group in Iraq died Monday in what unusual way?
A trainer at a terrorist camp north of Baghdad inadvertently used live explosives in a demonstration, killing off his entire class.
Question 4
of 12
Though the ban on West Virginia's contaminated water has been lifted, some residents reported that the water still has the telltale chemical smell of what?
The methanol compound that leaked into the Elk River in January smells strongly of licorice.
Question 5
of 12
The government of Thailand warned on Sunday that "the country's creativity and innovation" were being threatened by what?
"Selfie addiction" is a major worry in Thailand. The world's most Instagrammed place, in fact, is the Siam Paragon shopping mall in Bangkok.
Question 6
of 12
Researchers in the town of Happisburgh, England, discovered an 850,000-year-old collection of what, which disappeared two weeks later?
These oldest human footprints ever discovered outside of Africa were exposed—and then quickly destroyed—by tidal erosion.
Question 7
of 12
On Tuesday the House of Representatives narrowly voted to extend what?
The vote raised the government's borrowing limit through March 2015, ending a three-year series of budget standoffs.
Question 8
of 12
"We are not making much progress," said U.N. envoy Lakhdar Brahimi in Geneva this week, as he tried to negotiate what?
Question 9
of 12
Eight of what fell into a giant sinkhole in Bowling Green, Ky., on Wednesday?
The hole opened at the National Corvette Museum. "The hole is so big, it makes the Corvettes look like little Matchbox cars," said a spokesperson.
Question 10
of 12
Jose Salvador Alvarenga returned to his native El Salvador this week, after more than a year spent where?
Alvarenga washed up in the Marshall Islands two weeks ago, claiming to have survived for 13 months at sea on birds, sharks, and turtle blood.
Question 11
of 12
What was shut down by the Los Angeles County Department of Public Health on Monday?
The parody coffee shop drew long lines, but finally turned out to be a prank pulled by Comedy Central's Nathan Fielder.
Question 12
of 12
On Sunday afternoon, what shocking, bloody sight greeted a crowd of onlookers in Copenhagen?
Marius the giraffe was shot in the head by the Copenhagen Zoo, dissected in front of a large crowd, and then fed to the zoo's lions, resulting in international protests.
February 14, 2014
Anonymous User
Log in to track your scores!
vs.

Seth Stevenson
Frequent Slate contributor
Venezuelan President Nicolas Maduro
Spanish King Juan Carlos I
Cuban President Raul Castro
Italian Prime Minister Enrico Letta
Signing up for health care
Contaminated cigarettes poisoned them
A goat revealed their location to the Iraqi military
A suicide-bomb teacher blew up his class
A vibrating cellphone collapsed their bunker
An end to Iran's nuclear program
The release of Kenneth Bae from North Korea
George Zimmerman's celebrity boxing match
In a Mexican airport transit lounge
Shirley Temple Black's funeral
Average
0 points
You
0 points

Seth Stevenson
Frequent Slate contributor
0 points
Answer quickly to earn more points!
Quiz Template by Chris Kirk and Andrew Morgan