Play the Slate News Quiz
With Jeopardy! superchampion Ken Jennings.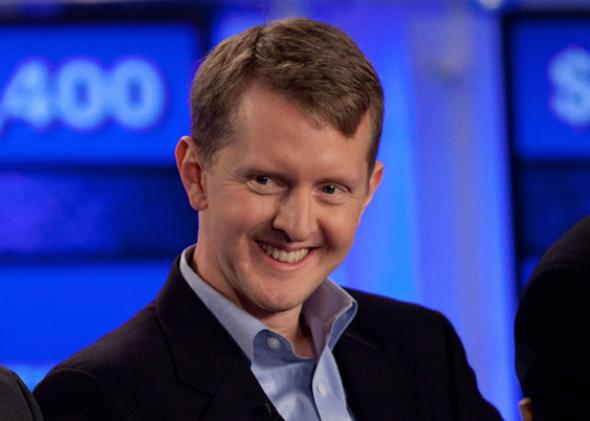 Welcome back to Slate's weekly news quiz. I'm your host, 74-time Jeopardy! winner Ken Jennings.
Every Friday I'll be testing your knowledge with 12 challenging questions on the week's news events, big and small, including happenings in science, sports, politics, and culture both high and low. The questions are multiple-choice, and time is of the essence: You have 30 seconds to answer, and as the seconds tick away, the question's point value drops from 50 all the way down to zero, so you'll want to click on your answer as fast as you possibly can. There's no penalty for an incorrect answer, so feel free to take a guess if your puny human brain fails you.
At the end of the quiz, you'll be able to compare your score with that of the average contestant, as well as to the score of a Slate-ster whom I've talked into taking the quiz on the record. This week's contestant is Josh Voorhees, a Slate senior writer and the editor of the Slatest.
Think you can ace my quiz and beat Voorhees? Good luck!
The Slate Quiz with quizmaster Ken Jennings
It's been a rough couple of weeks for the country, especially for the approval ratings of politicians, and even more especially for the approval ratings of politicians named "Ted Cruz." But the shutdown cloud did have a silver lining for a different demographic: White House fauna. With White House groundskeepers on furlough, birds, squirrels, and even a wild fox gorged on the berries in Michelle Obama's garden. Good luck with low-hanging fruit on this week's Slate News Quiz.
Question 1
of 12
What was unusual about the oarfish pulled from the sea off California's Catalina Island on Sunday?
Sixteen people were needed to drag the huge carcass ashore. Oarfish may be the creatures described as "sea serpents" by early sailors.
Question 2
of 12
What concessions did Republicans win from Democrats in the bipartisan compromise bill that ended the government shutdown Wednesday night?
Question 3
of 12
Scott Carpenter died last week in Denver at age 88, leaving only one surviving member of what group?
In 1962, Carpenter became the second American to orbit the Earth. The last surviving Mercury astronaut is the oldest of the seven: John Glenn.
Question 4
of 12
What nation was rocked by both a 7.1-magnitude earthquake and Nari, a Category 1 typhoon, this week?
Question 5
of 12
A former holder of what office was sentenced last week to 28 years in prison on corruption charges, including using his poverty nonprofit to pay for yoga, golf clubs, and vacations?
Kwame Kilpatrick was the city's mayor from 2002 through 2008. Prosecutors blamed his administration for worsening the city's economic crisis.
Question 6
of 12
Which of these things is set to happen first?
If you liked this shutdown, just wait three months. The Senate's temporary budget only funds the government until Jan. 15.
Question 7
of 12
The government of Azerbaijan announced that longtime president Ilham Aliyev had won 72.76 percent of the vote in last week's election. What was unusual about this announcement?
The election commission blamed the gaffe on a software bug.
Question 8
of 12
A new study from the Monell Chemical Senses Center has confirmed the existence of which of these?
But participants found that the distinctive smell of the elderly was the least offensive bodily odor of all the age groups tested.
Question 9
of 12
The Vatican has withdrawn 6,000 gold, silver, and bronze commemorative papal medals because they contained what embarrassing error?
Question 10
of 12
Representatives from seven nations met in Geneva on Tuesday as talks began on what thorny issue?
Question 11
of 12
How did authorities bring Somali pirate kingpin Mohamed "Big Mouth" Abdi Hassan into custody this week?
"Big Mouth" thought he was flying to Belgium to consult on a documentary about his life on the high seas. Instead, he was arrested at the Brussels airport.
Question 12
of 12
A new study at Connecticut College has found that—in lab rats, anyway—what can be just as addictive as cocaine?
Scientists discovered that the cookies triggered the same "pleasure" neurons as hard drugs. Like humans, rats typically choose to eat the creamy middle first.
October 18, 2013
Anonymous User
Log in to track your scores!
vs.
Josh Voorhees
Editor of the Slatest
Its skin was completely transparent.
It had swallowed a World War II-era artillery shell.
The 1961 New York Yankees
International Monetary Fund director
The deadline for Obamacare enrollment
The expiration of the new budget
It came the day before the election.
It counted more votes than there are Azerbaijanis.
Aliyev is ineligible to run for a third term.
A rendering of "St. Peter's" is actually the Ohio state Capitol.
Pope Francis has six fingers on one hand.
The Bible reference is the fake verse from Pulp Fiction.
"Jesus" is spelled "Lesus."
Israel's West Bank borders
By staking out his dry cleaner
By pretending to hire him for a fake movie
By stealing a DNA sample from his dentist
By posing as amorous Facebook fans
Average
0 points
You
0 points
Josh Voorhees
Editor of the Slatest
0 points
Answer quickly to earn more points!
Quiz Template by Chris Kirk and Andrew Morgan
Correction, Oct. 18, 2013: Due to a production error, Question 10 of the quiz originally marked an incorrect answer as correct. The Slate contestant's score has also been corrected accordingly.