Play the Slate News Quiz
With Jeopardy! superchampion Ken Jennings.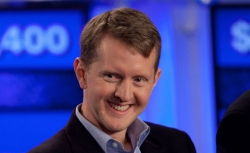 Welcome back to Slate's weekly news quiz. I'm your host, 74-time Jeopardy! winner Ken Jennings.
Every Friday I'll be testing your knowledge with 12 challenging questions on the week's news events, big and small, including happenings in science, sports, politics, and culture both high and low. The questions are multiple-choice, and time is of the essence: You have 30 seconds to answer, and as the seconds tick away, the question's point value drops from 50 all the way down to zero, so you'll want to click on your answer as fast as you possibly can. There's no penalty for an incorrect answer, so feel free to take a guess if your puny human brain fails you.
At the end of the quiz, you'll be able to compare your score with that of the average contestant, as well as to the score of a Slate-ster whom I've talked into taking the quiz on the record. This week's contestant is Amanda Marcotte, who blogs for Slate's XX Factor.
Think you can ace my quiz and beat Marcotte? Good luck!
Just in time for back-to-school season, the government of Vietnam has announced that it's offering free college tuition—but only to students willing to major in "communist sciences." It seems the nation's youth are a little rusty on their Marxist-Leninist dogma. Hopefully you're a little more knowledgeable than a Vietnamese college freshman, as it's time once again for the Slate News Quiz.
Question 1
of 12
On Wednesday, who received a 35-year jail sentence from Judge Denise Lind, substantially less than the 60-year term sought by prosecutors?
It's by far the longest sentence ever received by a media leaker.
Question 2
of 12
The Oglala Sioux of South Dakota's Pine Ridge Reservation have voted to bolster alcohol treatment programs using revenue from what new source?
Last week, the tribe voted to open liquor shops at Pine Ridge, formerly the state's last "dry" reservation. The proceeds, supporters promise, will build a detox facility and treatment center.
Question 3
of 12
Visitors to a zoo in Luohe, China became angry recently when they discovered what in the cage labeled "African lion"?
The zoo had "temporarily" replaced their lion with a shaggy, vaguely lion-esque Tibetan mastiff. There was also a dog in the wolf cage, and the "leopard" was a white fox.
Question 4
of 12
The Republican National Committee has voted to ban NBC from its 2016 primary debates unless the network does what?
Question 5
of 12
The U.N. Security Council held an emergency session this week after reports of hundreds of deaths from a poison gas attack in what country?
Question 6
of 12
"The First Family picked her name because it fit her cheerful personality," announced the White House website this week. What is the Obamas' new puppy named?
Question 7
of 12
Scientists in Australia claim to have developed a new hangover-free beer, made by adding what to the brew?
The Gatorade-like beer, which also has a reduced alcohol content, apparently minimizes the dehydration that causes morning-after headaches.
Question 8
of 12
What did Wesley Warren, Jr. of Las Vegas have that weighed a remarkable 132 pounds, making him an overnight TV sensation this week?
Warren suffered from a rare medical condition called scrotal lymphedema. TLC aired a special about the swollen sack's removal on Monday night.
Question 9
of 12
On Wednesday, a court ordered that what former world leader be released from Tora prison, after a corruption charge was set aside?
The former Egyptian president still faces murder charges, but Egypt has a two-year legal limit on jail custody pending a legal verdict, so Mubarak has been moved to the hospital under house arrest.
Question 10
of 12
Teruo Nozaki, a convenience store worker in Tokyo, has finally been arrested after spending the past 18 months doing what as often as 1,000 times a day?
Nozaki dialed Japan's emergency number, 110, more than 28,000 times.
Question 11
of 12
Which of these long-denied rumors did the CIA not finally admit was true this month?
There were no aliens or UFOs at Area 51, according to a newly declassified report. The base was used to test Cold War-era craft like the U-2 spy plane.
Question 12
of 12
On Monday, Texas Sen. Ted Cruz issued a statement renouncing what?
Cruz was apparently unaware that his 1970 birth in Calgary to an American mother had conferred on him dual citizenship.
You got 8 out of 12 answers correct in 20 minutes 30 seconds.
Answer quickly to earn more points!
August 22, 2013
Anonymous User
Log in to track your scores!
vs.
Amanda Marcotte
Writer for XX Factor
Bradley (now Chelsea) Manning
A food trough full of potato chips
A woman in a sexy lioness costume
Cancels its Hillary Clinton miniseries
Addresses "liberal bias" on MSNBC
Renews Celebrity Apprentice
Returns Fred Thompson to Law & Order
Posting death threats on Facebook
It overthrew the president of Iran in 1953
It helped fuel the 1980s crack epidemic
His state's Obamacare money
His support for the Iraq war
"Satan and all his works"
Average
0 points
You
0 points
Amanda Marcotte
Writer for XX Factor
0 points
Recent Quizzes
Loading your quiz history...
←
→
Quiz Template by Chris Kirk and Andrew Morgan