Play the Slate News Quiz
With Jeopardy! superchampion Ken Jennings.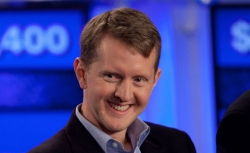 Welcome back to Slate's weekly news quiz. I'm your host, 74-time Jeopardy! winner Ken Jennings.
Every Friday I'll be testing your knowledge with 12 challenging questions on the week's news events, big and small, including happenings in science, sports, politics, and culture both high and low. The questions are multiple-choice, and time is of the essence: You have 30 seconds to answer, and as the seconds tick away, the question's point value drops from 50 all the way down to zero, so you'll want to click on your answer as fast as you possibly can. There's no penalty for an incorrect answer, so feel free to take a guess if your puny human brain fails you.
At the end of the quiz, you'll be able to compare your score with that of the average contestant, as well as to the score of a Slate-ster whom I've talked into taking the quiz on the record. This week's contestant is Amanda Hess, who blogs for Slate's XX Factor on sex, science, and health.
Think you can ace my quiz and beat Hess? Good luck!
It's long been known that heat waves lead to spikes in crime, but a study in this week's issue of Science has estimated for the first time how this relates to climate change. International and interethnic tensions will increase 50 percent by 2050 due to global warming, and interpersonal violence by 16 percent, predict the economists. I hope you have air-conditioning this summer, because you'll need a cool head to beat the Slate News Quiz.
Question 1
of 12
After closing 22 embassies on Sunday due to terror threats, the U.S. targeted al-Qaida with five drone strikes in what country?
Question 2
of 12
Gay rights activists are urging an international boycott of which of these archetypally "Russian" products, despite its mostly non-Russian origins?
Stoli, it turns out, is distilled in Latvia by a Luxembourg-owned company. Its CEO reportedly lives in exile from Russia for his anti-Putin views, and the company supports LGBT causes.
Question 3
of 12
After pleading guilty to 937 different charges, who received a whopping sentence of life plus 1,000 years last Thursday?
The kidnapper's two-story house was torn down by demolition crews on Wednesday, to cheers from his Cleveland neighbors.
Question 4
of 12
Seattle's civil rights office has advised city employees enjoying their lunches to no longer employ which of these racially charged terms?
The office's memo links the term to a "brown-bag test" once used to measure the lightness of African-American skin.
Question 5
of 12
Hassan Rouhani gave his first news conference on Tuesday after officially taking what new position?
Question 6
of 12
Paul Marquez, 23, of Staten Island, was arraigned Thursday on charges of trying to sell what on Craigslist for $100?
"She has asthma ... she's really getting on my nerves nd [sic] I don't want her," Marquez posted. He received multiple offers but claims he posted the listing only to annoy his girlfriend.
Question 7
of 12
In September, the state of Texas is due to run out of its entire supply of what much-needed commodity?
It's the second time in a little more than a year that the state, which in 2013 has executed almost as many criminals as the rest of the country put together, has run low on the sedative pentobarbital.
Question 8
of 12
The Centers for Disease Control and Prevention reported Tuesday that the occurrence of what has dropped slightly in 18 states since 2008?
Question 9
of 12
A bipartisan Senate bill has been proposed that could earn the U.S. Postal Service $50 million a year by allowing it, for the first time, to deliver what?
Question 10
of 12
On Sunday, a Japanese talking robot called "Kirobo" went to work for the first time. What is Kirobo's job?
Kirobo blasted off for the International Space Station, where it will "function as a mediator between person and machine," says its inventor.
Question 11
of 12
Prosecutors announced last Friday that Alejandro Bohn and Marcelo Kemeny would face no charges for their company's role in what incident?
A Chilean congressional commission had previously blamed the two men, the mine's owners, for the accident. The rescued miners called the decision "a disgrace."
Question 12
of 12
Taco Bell is expanding its rollout of a new line of tacos served on what?
The waffle taco contains scrambled eggs and sausage, and is served with a side of syrup. So much for those childhood obesity numbers.
You got 8 out of 12 answers correct in 20 minutes 30 seconds.
Answer quickly to earn more points!
August 8, 2013
Anonymous User
Log in to track your scores!
vs.

Amanda Hess
writer for Slate's XX Factor
The Chilean mine collapse
The Costa Concordia shipwreck
The Deepwater Horizon oil spill
The Kiss nightclub fire in Brazil
Average
0 points
You
0 points

Amanda Hess
writer for Slate's XX Factor
0 points
Recent Quizzes
Loading your quiz history...
←
→
Quiz Template by Chris Kirk and Andrew Morgan