Play the Slate News Quiz
With Jeopardy! superchampion Ken Jennings.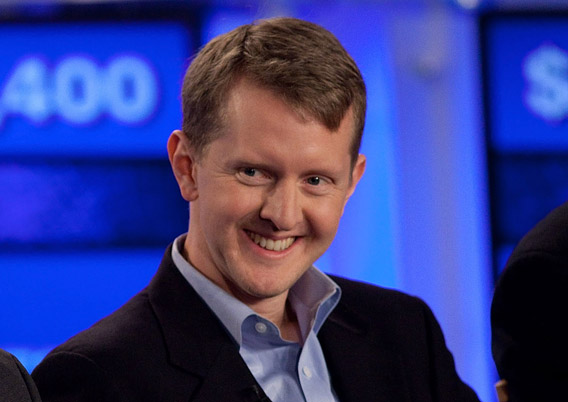 Welcome back to Slate's weekly news quiz. I'm your host, 74-time Jeopardy! winner Ken Jennings.
Every Friday I'll be testing your knowledge with 12 challenging questions on the week's news events, big and small, including happenings in science, sports, politics, and culture both high and low. The questions are multiple-choice, and time is of the essence: You have 30 seconds to answer, and as the seconds tick away, the question's point value drops from 50 all the way down to zero, so you'll want to click on your answer as fast as you possibly can. There's no penalty for an incorrect answer, so feel free to take a guess if your puny human brain fails you.
At the end of the quiz, you'll be able to compare your score with that of the average contestant, as well as to the score of a Slatester whom I've talked into taking the quiz on the record. This week's contestant is Jessica Winter, Slate's business and technology editor.
Think you can ace my quiz and beat Winter? Good luck!

It's been almost a month since Slate last ran its Friday news quiz, and I've received a lot of anxious feedback from readers wondering about the disappearance. Well, there was a simple explanation for the hiatus: It was all my fault, for going on vacation. But it's time to start paying attention to current events again, my friends. The Slate News Quiz is back.
Question 1
of 12
After Oakland's KTVU-TV announced four implausible faux-Asian puns as the names of the pilots in the Asiana crash, who did the station blame for the racially offensive names?
Question 2
of 12
Last week, the North Carolina State House passed controversial abortion restrictions by attaching them to a unanimously popular bill on what subject?
The title of SB 353 is now 140 words long, with just 17 words describing motorcycle safety and 123 referencing abortion.
Question 3
of 12
Since J.K. Rowling was revealed as the pseudonymous author of the recent crime novel The Cuckoo's Calling, the book's Amazon sales have risen how much?
Question 4
of 12
A former winner of the Nobel Peace Prize was sworn in Sunday as the new vice president of what nation?
Mohamed ElBaradei, former head of the International Atomic Energy Agency, supported the military coup against Mohamed Morsi's government.
Question 5
of 12
According to his brother Robert, what newsmaker believes his life to be in danger from people who "want to take justice into their own hands"?
Zimmerman will continue to carry the gun that killed Trayvon Martin when in public, says attorney Mark O'Mara.
Question 6
of 12
What new record-holder, open this month after three years of construction, measures 1.7 million square meters in area, roughly the same size as the country of Monaco?
The New Century Global Center in Chengdu, the world's new largest building, could hold 20 Sydney Opera Houses. Amenities include offices, two hotels, a university, an artificial beach, and even a 24-hour artificial sun.
Question 7
of 12
Rolling Stone magazine stoked a controversy this week by putting Boston bombing suspect Dzhokhar Tsarnaev on its cover. Which of these killers has previously been featured on the cover of the Rolling Stone?
Question 8
of 12
Investigators say that DNA evidence from a water bottle at a construction site has, for the first time, conclusively proven what?
The DNA sample, collected from DeSalvo's nephew Tim, is a 99.99 percent match for the killer of Mary Sullivan, the last "Strangler" victim in 1964.
Question 9
of 12
On Tuesday, Panamanian officials announced that they had uncovered what contraband being smuggled through the Panama Canal beneath 250,000 bags of sugar?
Cuba has admitted that it sent the Soviet-era equipment to North Korea—"for repair," apparently.
Question 10
of 12
Pope Francis announced on Wednesday that, later this month, Catholics may lessen their time in purgatory by doing what?
Catholics will receive "indulgences" for participating in the church's upcoming World Youth Day in Rio de Janeiro—even on social media, if they can't make it in person.
Question 11
of 12
Last week, the Associated Press reported that Khalid Sheikh Mohammed, the architect of the 9/11 attacks, was allowed to design a new type of what while in CIA custody?
Detainees are often allowed to pursue interests to keep their mental condition stable after they face extreme interrogation techniques.
Question 12
of 12
Following a series of embarrassing incidents and YouTube videos, who may be required to undergo random drug and alcohol testing for the first time?
You got 8 out of 12 answers correct in 20 minutes 30 seconds.
Answer quickly to earn more points!
July 19, 2013
Anonymous User
Log in to track your scores!
vs.

Jessica Winter
Slate business and technology editor
An intern at the National Transportation Safety Board
An anonymous poster on Reddit
The airline's overwhelmed P.R. machine
The sheik of Dubai's artificial island
A Russia-themed amusement park outside Moscow
Dylan Klebold and Eric Harris
Jimmy Hoffa is buried outside Detroit
Albert DeSalvo was the Boston Strangler
The "West Memphis Three" are innocent
Johnny Depp is not Native American
Three thousand endangered parrots
North Korean missile equipment
Demonstrating at pro-life rallies
Reducing their carbon footprint
Following the Vatican on Twitter
Major League Baseball mascots
Average
0 points
You
0 points

Jessica Winter
Slate business and technology editor
0 points
Recent Quizzes
Loading your quiz history...
←
→
Quiz Template by Chris Kirk and Andrew Morgan