Play the Slate News Quiz
With Jeopardy! superchampion Ken Jennings.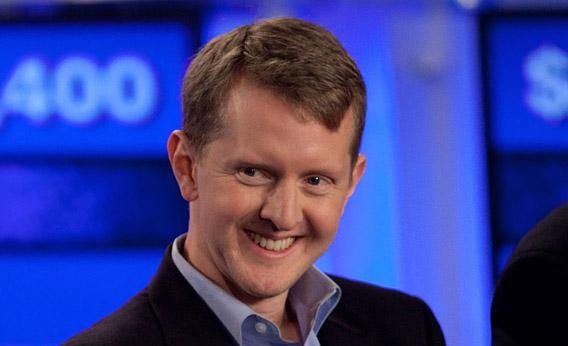 Welcome back to Slate's weekly news quiz. I'm your host, 74-time Jeopardy! winner Ken Jennings.
Every Friday I'll be testing your knowledge with 12 challenging questions on the week's news events, big and small, including happenings in science, sports, politics, and culture both high and low. The questions are multiple-choice, and time is of the essence: You have 30 seconds to answer, and as the seconds tick away, the question's point value drops from 50 all the way down to zero, so you'll want to click on your answer as fast as you possibly can. There's no penalty for an incorrect answer, so feel free to take a guess if your puny human brain fails you.
At the end of the quiz, you'll be able to compare your score with that of the average contestant, as well as to the score of a Slatester whom I've talked into taking the quiz on the record. This week's contestant is Alyssa Rosenberg, who writes about culture and television for Slate's "XX Factor" blog.
Think you can ace my quiz and beat Rosenberg? Good luck!
Note: The Slate Quiz will take a short vacation the next few weeks, and will return on July 19.
Losing the great James Gandolfini this week was hard enough, but there were other casualties in the news as well: Arizona's voter ID law (struck down by the Supreme Court), pilgrimages to Lourdes (canceled due to flooding), and the Czech government (toppled by a juicy spying scandal). Even in the face of all this loss, it's not too late to eke out a win at the Slate News Quiz. You can do it. Don't stop believin'.
Question 1
of 12
"I could be living in a palace petting a phoenix by now," asserted what newsmaker in a confusing reply on Monday?
Snowden was denying that he was a Chinese spy, as Dick Cheney and others had suggested after he fled to Hong Kong.
Question 2
of 12
Last Friday, noting that a "red line" specified in August 2012 has been crossed, President Obama authorized what?
The decision to supplement the current nonlethal and humanitarian aid is the result of evidence that Bashar al-Assad's regime has used chemical weapons.
Question 3
of 12
A class-action suit filed by documentarian Jennifer Nelson threatens the estimated $2 million earned by Warner Music every year from people doing what?
The Warner Music Group allegedly earns $5,000 a day from commercial uses of "Happy Birthday," which Nelson's suit contends has been in the public domain since 1963 at the latest.
Question 4
of 12
A DNA paternity test given in Scotland last week resolved a brewing controversy: Socks is not the father of Scamp. Who is Socks?
Socks, who moonwalked into fame in a British mobile phone commercial, had been spotted by his owner swimming 175 yards across a loch to romance a mare named Nugget.
Question 5
of 12
A national legislature approved Chinese tycoon Wang Jing's ambitious $40 billion plan last week to build a new competitor to what?
The Nicaraguan national assembly approved a plan to explore a new oceanic mega-canal through the nation that would dwarf Panama's.
Question 6
of 12
During a speech at a Carnegie Hall gala last week, Russian president Vladimir Putin was accused of stealing what unusual item?
Putin denies the story, saying the ring was "a gift." Patriots owner Robert Kraft agrees that this was the story the Bush White House encouraged him to tell, for diplomatic reasons.
Question 7
of 12
Neighbors in Michael Karkoc's Minneapolis neighborhood described the 94-year-old as "jovial and stuff." Karkoc is alleged to have done what?
Question 8
of 12
What odd fad, sparked by a music video, has led to an outbreak of conjunctivitis among Japanese teens?
Doctors warn that oculolinctus (sexualized eye-licking) can cause corneal damage and even blindness.
Question 9
of 12
The Supreme Court ruled unanimously last week in the landmark case of AMP v. Myriad that what cannot be patented?
The court disallowed Myriad Genetics' patent on genes linked to breast and ovarian cancer.
Question 10
of 12
The FBI spent two days digging up an overgrown farm field in Oakland Township, Mich., this week, in hopes of finding what?
This was the umpteenth in a series of tips on the missing Teamster leader's whereabouts that the bureau has received over the decades.
Question 11
of 12
The U.S. Navy has dropped a century-old rule requiring what in all internal communication?
"Lower-case messages are here to stay," said the Navy, discovering the annoyingness of all-caps messages just 20 years after the Internet did.
Question 12
of 12
Small demonstrations over rising bus fares have ballooned into huge rallies numbering more than 200,000 protesters in what nation?
Worries over rising inflation and crime rates have led to massive marches in Brazil's major cities.
You got 8 out of 12 answers correct in 20 minutes 30 seconds.
Answer quickly to earn more points!
June 21, 2013
Anonymous User
Log in to track your scores!
vs.
Alyssa Rosenberg
writer for Slate's "XX Factor"
"Miss Utah" Marissa Powell
Tapping the Strategic Petroleum Reserve
Military aid to Syrian rebels
Singing "Happy Birthday to You"
The world's first cloned rabbit
A moonwalking Shetland pony
A cat who saved seven people from a house fire
The Trans-Alaska Pipeline
The International Space Station
A New England Patriots Super Bowl ring
An ironing board from Keith Richards' guesthouse
Two pairs of U.S. Secret Service sunglasses
Led a Nazi SS unit in 1944
Poisoned a local aquifer with arsenic
Spied on the State Department for the USSR
Eaten at least six of his murder victims
Genetically modified organisms
Paintings from a Boston art heist
Billions of counterfeit Canadian dollars
The remains of Jimmy Hoffa
Average
0 points
You
0 points
Alyssa Rosenberg
writer for Slate's "XX Factor"
0 points
Recent Quizzes
Loading your quiz history...
←
→
Quiz Template by Chris Kirk and Andrew Morgan