Play the Slate News Quiz
With Jeopardy! superchampion Ken Jennings.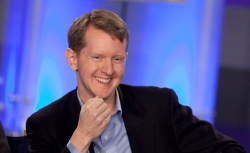 Welcome back to Slate's weekly news quiz. I'm your host, 74-time Jeopardy! winner Ken Jennings.
Every Friday I'll be testing your knowledge with 12 challenging questions on the week's news events, big and small, including happenings in science, sports, politics, and culture both high and low. The questions are multiple-choice, and time is of the essence: You have 30 seconds to answer, and as the seconds tick away, the question's point value drops from 50 all the way down to zero, so you'll want to click on your answer as fast as you possibly can. There's no penalty for an incorrect answer, so feel free to take a guess if your puny human brain fails you.
At the end of the quiz, you'll be able to compare your score with that of the average contestant, as well as to the score of a Slate staffer whom I've talked into taking the quiz on the record. This week's contestant is Slate assistant editor L.V. Anderson, who edits Slate's food and drink sections and writes Brow Beat's recipe column, You're Doing It Wrong.

Think you can ace my quiz and beat Anderson? Good luck!


A friend complained to me this week that this quiz "stresses him out," because of that relentless ticking clock. "Does it have to start counting down as soon as the question appears?" he complained. I'll tell you what I told him: The clock is doing its job, but just ignore it. Do whatever it takes. Try breathing exercises, or soothing music, or even cover the clock with a piece of duct tape on your monitor. Your score will be better if you're relaxed, I promise.
Question 1
of 12
Over 230 people were killed in a Brazilian nightclub Sunday, because a local country band bought the cheap dollar-store variety of what?
Flares approved for indoor use might have prevented the fire, said investigators Tuesday, but they cost over $35 each. The band used $1.25 outdoor flares instead, leading to the fatal fire.
Question 2
of 12
Two Georgia men were arrested last week for allegedly stealing 26,000 pounds of what from a storage facility, in anticipation of Super Bowl Sunday?
Media reports of a nationwide chicken wing shortage are overblown; Americans will still eat over 1.23 billion wings this weekend.
Question 3
of 12
The Boy Scouts of America have confirmed that they are considering repealing their long-standing ban on gay Scouts. Which of these is not currently a Boy Scout merit badge?
Common mistake: The Bear badge is a Cub Scout rank, not a Boy Scout merit badge.
Question 4
of 12
Bloody street violence led to a government-declared curfew and state of emergency this week along what waterway?
The state of emergency, announced by Egyptian president Mohamed Morsi, followed violent clashes in the cities of Port Said, Suez, and Ismailia.
Question 5
of 12
San Francisco's animal control agency announced this week that it is currently facing a critical shortage of what?
Fortunately, the San Francisco Public Library has agreed to end the crisis by donating its old papers to line the cages in animal shelters.
Question 6
of 12
Last Friday, John Kiriakou became the first person in what position ever to be convicted for leaking information to the media?
Kiriakou is the former CIA case officer who went public with accounts of the agency's use of "enhanced" interrogation tactics like waterboarding.
Question 7
of 12
A library of rare medieval artifacts, including a Quran written on gazelle skin, was torched by rebels on Saturday in what city?
Question 8
of 12
Some NBA fans were skeptical this week when the New Orleans Hornets announced that they would be honoring their home city by changing their name to what?
Question 9
of 12
"I hope the third time is the charm," said Sen. Lindsey Graham this week of what new development?
Graham is one of the "Gang of Eight" senators who proposed bipartisan immigration reform measures in a Monday afternoon press conference.
Question 10
of 12
Last week, Apple's market capitalization dipped to $414 billion, allowing what other company to pass it and become the world's most valuable company?
Question 11
of 12
Former astronaut Mark Kelly, who commanded the final mission of space shuttle Endeavour, addressed a Congressional hearing Wednesday on what issue?
Kelly is the husband of former Arizona representative Gabrielle Giffords, a victim of gun violence who also spoke at the hearing.
Question 12
of 12
Who announced on Monday that her 33 years on the throne would end on April 30?
You got 8 out of 12 answers correct in 20 minutes 30 seconds.
Answer quickly to earn more points!
February 1, 2013
Anonymous User
Log in to track your scores!
vs.

L.V. Anderson
assistant editor
Kitty litter, due to new environmental laws
Newspapers for puppy cages, due to declining circulation
Tennis balls, due to the sport's declining popularity
AMC bringing back The Killing
Margrethe, queen of Denmark
Beatrix, queen of the Netherlands
Average
0 points
You
0 points

L.V. Anderson
assistant editor
0 points
Recent Quizzes
Loading your quiz history...
←
→
Quiz Template by Chris Kirk and Andrew Morgan