Boss Emily Bazelon Around
Which classic Supreme Court decision should she write about?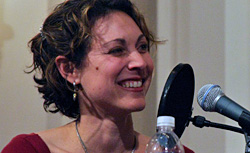 "Tell me which classic case to write about."
Emily Bazelon
Slate Senior Editor
OK, Slate readers, I'm at your mercy, or at least at your service. This year, I'll be covering the Supreme Court term from some new angles, by asking for readers' stories about the issues the court is tackling, and by delving into the history that's most relevant. That's where you come in: I've chosen five historic Supreme Court decisions that are bound to play a major role in the court's jurisprudence this term. Which of these fascinating, gnarly Supreme Court classics should I write about this week?
Which classic case should I write about?
Why are these cases interesting?
Bowers v. Hardwick: In this 1986 decision, the Supreme Court took a wrong turn and upheld a state law banning sodomy (even the private, consensual kind). If the court takes a case about same-sex marriage this year, this old rotten chestnut will be very much in play.
Michigan v. Summers: The Supreme Court ruled in 1981 that police searching a home for illegal substances may detain the owner. This term, the court will decide whether to extend that rule to allow the police to stop and search a homeowner who has left the vicinity.
Quality King Distributors, Inc. v. L'anza Research International Inc.: The sleeper case of the coming year, I swear, is about textbooks. Supap Kirtsaeng is a Thai doctoral student sued for copyright infringement by the publisher John Wiley & Sons for reselling on the Web copies of U.S. textbooks sent to him by friends and family in Thailand. The case I need to understand, to decide what I think about Kirtsaeng's, is Quality King, a 1998 decision about goods made in the United States and purchased abroad for resale here. That time around, it was shampoo bottles. Are you hooked yet?

South Carolina v. Katzenbach: This 1966 Warren Court classic upheld the Voting Rights Act a year after it passed. It will be on the chopping block—potentially—if the court takes one of the challenges to the part of the Voting Rights Act that requires some Southern states to clear their redistricting plans with the Justice Department. It sounds dry but it's about race, elections, and democracy. The big stuff.