Will Ferrell in Winter
The critical buzz on Blades of Glory and The Lookout.
Blades of Glory (Paramount). Critics are mildly amused by Will Ferrell's new comedy, in which he and Napoleon Dynamite's Jon Heder star as a team of figure skaters. Entertainment Weekly's Owen Gleiberman calls the film "a farce of preening emasculation in spandex." (On balance, that seems to be a good thing.) Even so, the production keeps overt gay-baiting to a minimum; in the New York Times, Stephen Holden remarks, "It comes as a huge relief to find that as Blades of Glory speeds along, it avoids going to the obvious, ugly place for cheap laughs." But in Slate, Dana Stevens accuses Ferrell of coasting on his comedic signatures, sighing that she hopes the film "isn't what it seems to be: the film that marks the moment the bloom came off Will Ferrell's rose." (Buy tickets to Blades of Glory.)
The Lookout (Miramax). Scott Frank's drama about a brain-injured janitor who gets caught up in a complicated heist scheme is his first directing effort, though he's also written the screenplays for two Elmore Leonard novels (Get Shorty and Out of Sight). L.A. Weekly's Ella Taylor notes that the director's background comes through, calling The Lookout"inescapably a screenwriter's movie and, for those of us who can't stomach poorly written dialogue even in an action picture, none the worse for it." In Rolling Stone, an effusive Peter Travers can hardly contain his excitement: "In a knockout directing debut, Frank cooks up his own mischief. The web he spins will pull you in. Guaranteed."New York's David Edelstein is more measured: "I enjoyed The Lookout—yet I did feel let down by the climax, which ought to have been blunter and messier and crazier and more cathartic." (Buy tickets to The Lookout.)
Oprah's Book Club. On Wednesday, Oprah selected Cormac McCarthy's post-apocalyptic novel The Road for her Book Club, and the famously reclusive author surprised fans and industry insiders alike by saying he would appear on her show. The Chicago Tribune calls the match "one of the oddest and most unlikely cultural pairings since Arthur Miller and Marilyn Monroe." McCarthy habitually spurns interviews and awards, but his spokesman explained to the Associated Press, "Mr. McCarthy respects her work, admires what she has accomplished, has an awareness of her book club and thought it would be interesting to participate in the conversation with Oprah." The selection of such an undeniably bleak novel has also raised eyebrows. Book blog The Millions notes, "[I]t is fascinating to me that this unabashedly mass market phenomenon, the TV show book club, would pick a book that is by all accounts harrowing and devastatingly serious and not an easy read in any sense."
The Onion News Network. The Onion News Network launched Tuesday, bringing the paper's familiar brand of fake news to online video. Initial offerings include a Lou Dobbs-esque segment spotlighting the woes of a senior corporate executive replaced by an illegal immigrant; talking heads debating Bush's plan to call up Civil War re-enactors for service in Iraq; and a piece about Condoleezza Rice traveling to "the Orient." Unlike The Daily Show, which satirizes real events, ONN cuts its fake news from whole cloth. The AP notes that the dispatches "aren't likely to be causing much missed sleep over at CNN and Fox News Channel"—but Onion president Sean Mills disagrees. Keeping with the broadcasts' veneer of authenticity, he assured Variety, "There's no studio audience, and no one's in on the joke. What we are trying to create is a broadcast-quality newscast on the Internet." Unwittingly echoing that sentiment, the Blog Herald notes, "Their news delivery is so believable that you would think that it's the mainstream media that's acting like The Onion."
YouTube 2006 Video Awards. On Monday, the video-sharing Web site announced the winners of its first annual awards, which were decided by users' votes. The chosen clips include familiar favorites: the OK Go treadmill video, the "Ask a Ninja" series, and singer Terra Naomi (a full list of winners is here). Lonelygirl15 didn't win anything, though, and the Huffington Post's Eat the Press blog remarks that the omission is "no real surprise, given the anti-LG backlash that's permeated the site since the series' deluge of publicity last fall." YouTube claims that their winners have "changed the landscape of how a 'star' is defined," but not everyone thinks the awards are a good idea. The New York Times' Virginia Heffernan argues that the site should be a clearinghouse for video, not an arbiter of taste or quality: "YouTube's video superlatives might make you think that Google might one day hand out prizes for best or shadiest Web site." Blogger Don Dodge sees a more underhanded motivation for the awards, writing that they "sound like an attempt to highlight non copyrighted material before [YouTube goes] to trial for copyright infringement in the Viacom case."
Big, Macy Gray (Geffen). In her first album since 2003's The Trouble With Being Myself, the soul singer takes off in a new R&B-tinged direction—with the help of Justin Timberlake and the Black Eyed Peas' will.i.am. In the New York Times, Jon Pareles notes, "The upside of the collaborations is in their well-turned melodies and tracks that mix the crisp and the lush." Indeed, most critics admire the album—if not quite as much as her earlier work. The Los Angeles Times observes that the new effort is "far from the organic charm of her multiplatinum 1999 debut" but "hangs together better" than her other two full-length albums. Gray's hometown paper, the Cleveland Plain-Dealer, cheers her on, predicting that if the new album "doesn't bring an overdue reversal of fortune, it certainly won't be for lack of instantly likable songs or for want of star power." (Buy Big.)
New York Times Book Review. Ben Schott's March 4 NYTBR essay, "Confessions of a Book Abuser," was the subject of an Editor's Note Sunday. Several readers pointed out that Schott's piece had some striking similarities to an essay in Anne Fadiman's book Ex Libris: Confessions of a Common Reader (particularly an anecdote about a European chambermaid), and literary bloggers are debating whether Schott knowingly aped Fadiman's work; he denies having read Fadiman's piece. Lit blogger Bill Peschel is skeptical of Schott's defense: "Outspoken book-loving chambermaids may be common on the European continent, but toss in a few more points of similarity between two essays, and plagiarism is far likelier." Bibliophile Bullpen is likewise unconvinced: "[H]as anyone SEEN one of Ben Schott's books? It's a collection of stuff by other people … can they really be that surprised?" But the LitKicks blog is forgiving: "[A] good line is a good line, and I am willing to believe that both Schott and Fadiman thought up the same good line … I think the NYTBR editors' apology is too shame-faced, and I wish they had stood by their writer more."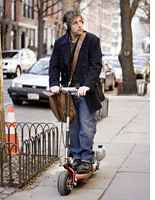 Reign Over Me (Columbia).Adam Sandler plays an emotionally shattered 9/11 widower in this dark buddy pic. He reconnects with his college roommate (Don Cheadle), now a wealthy dentist living an unfulfilling life, and epiphanies ensue. TheNew Yorker's Anthony Lane, of all people, seems oddly touched: "Reign Over Me closes with, at best, a cautious hope, leaving us more anxious than when we went in, and throughout the film there is a stunned and bewildered air hanging over the city, like a heavy smog." But in the New York Times, A.O. Scott records his exasperation at the film's unfulfilled promise: "It's rare to see so many moments of grace followed by so many stumbles and fumbles, or to see intelligence and discretion undone so thoroughly by glibness and grossness." And Entertainment Weekly's Lisa Schwarzbaum bristles at the juxtaposition of 9/11 and Cheadle's relatively insignificant marital woes, calling the film "as tenuous as Charlie's grip on reality, held together only by an audience's own nervous sadness and yearning for consolation." (Buy tickets to Reign Over Me.)