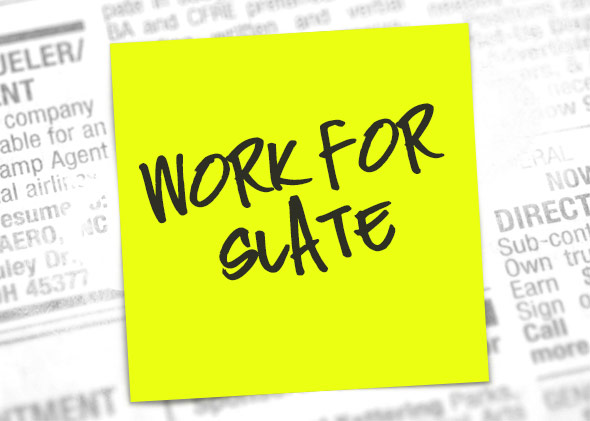 If you love Slate and are incredibly talented, maybe you should work for us. Slate and Panoply just so happen to be hiring.
Event Production Intern, Marketing
Our marketing team is seeking a spring intern. This role is perfect for a highly motivated individual with an interest in live programming, storytelling, and event production. The intern will work directly with our executive producer of live programming to plan and execute high-impact events in New York, D.C., and cities around the country.
Candidates should be either enrolled in an undergraduate or graduate program. Any number of long-term career goals are a good fit for this position, including journalism, communications, marketing, business, or academia.
The intern will gain experience by contributing to the following:
Assist in event production
Research on guests and locations
Support audience outreach
Post event materials online
Light administrative and event staffing duties as needed
You must be:
Curious and enthusiastic
Hyperorganized and detail-oriented
A fan of good stories
Willing to work a flexible schedule and occasional evenings
An excellent communicator
Excited by the live experience
Collaborative by nature; values others' good ideas
Please submit an original cover letter and résumé.
Slate welcomes candidates with diverse backgrounds and perspectives.
To apply for the event production internship, click here.