Failing the Test
Why cheating scandals and parent rebellions are erupting in schools in New York, Washington, D.C., and Atlanta.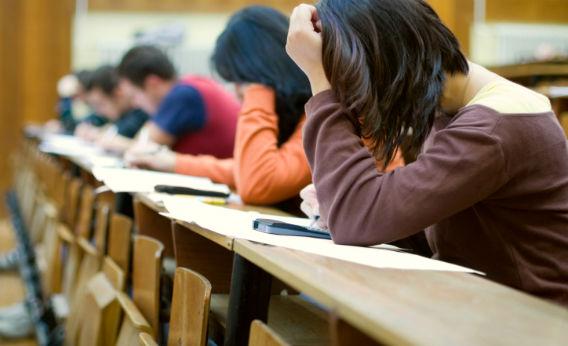 It's a terrible time for advocates of market-driven reform in public education. For more than a decade, their strategy—which makes teachers' careers turn on student gains in reading and math tests, and promotes competition through charter schools and vouchers—has been the dominant policy mantra. But now the cracks are showing. That's a good thing because this isn't a proven—or even a promising—way to make schools better.
Here's a litany of recent setbacks: In the latest Los Angeles school board election, a candidate who dared to question the overreliance on test results in evaluating teachers and the unseemly rush to approve charter schools won despite $4 million amassed to defeat him, including $1 million from New York City Mayor Michael Bloomberg and $250,000 from Rupert Murdoch's News Corp. Former Atlanta superintendent Beverly Hall, feted for boosting her students' test scores at all costs, has been indicted in a massive cheating scandal. Michelle Rhee, the former Washington D.C. school chief who is the darling of the accountability crowd, faces accusations, based on a memo released by veteran PBS correspondent John Merrow, that she knew about, and did nothing to stop, widespread cheating. In a Washington Post op-ed, Bill Gates, who has spent hundreds of millions of dollars promoting high-stakes, test-driven teacher evaluation, did an about-face and urged a kinder, gentler approach that teachers could embrace. And parents in New York State staged a rebellion, telling their kids not to take a new and untested achievement exam.
More damningly, a new study, by the Economic Policy Institute's Broader, Bolder Approach to Education, quantifies the negative effects of this test-driven education reform in Washington, D.C., New York City, and Chicago. In these cities, schools whose achievement scores didn't improve quickly enough to satisfy top officials were shuttered, teachers and principals were fired in droves, and charter schools proliferated. The result, since the much-touted reforms were implemented: Since the supposed reforms, students in those cities have fared worse than those in other urban districts. The specifics:
Test Scores on high-stakes reading and math test increased less, and the achievement gap widened.
Reported successes evaporated upon closer examination. In D.C., for instance, black eighth graders' scores fell five points while their counterparts' rose five points between 2005 and 2011. The achievement gap has soared by 44 percentage points in 4th-grade reading and by 72 points in 4th-grade math.
Experienced teachers quit the profession in droves.
School closures didn't give students a better education.
Charter schools were at best a mixed blessing, especially for the most disadvantaged kids.
The report also points out that New York City Mayor Michael Bloomberg "claimed to have cut the race-based achievement gap by 50 percent from 2003 to 2011" but "in reality, the gap closed by 1 percent." Similarly, the claims made by Michelle Rhee about D.C. and Obama Secretary of Education Arne Duncan about the school system he led in Chicago haven't stood up under close scrutiny. Anyone who believes in quick fixes for the dilemmas of public education should take note. It's the same lesson as l'affaire Bernie Madoff—if it sounds too good to be true, it likely is.
None of this should come as a shocker. As John Tierney writes in the Atlantic, "educational reforms need teachers' buy-in, trust, and cooperation to succeed; 'reforms' that kick teachers in the teeth are never going to succeed." A massive study of Chicago's schools, Organizing Schools for Improvement, arrives at the same conclusion—trust, inside a school and with parents as well as teachers, sets effective schools apart from the pack.