Medicine Men
In Nigeria, the mentally ill have little more than faith on their side.
Each Friday Roads & Kingdoms and Slate publish a new dispatch from around the globe. For more foreign correspondence mixed with food, war, travel, and photography, visit their online magazine or follow @roadskingdoms on Twitter.
IBADAN, Nigeria—Al-Hajji Mojeed thinks of himself as a reformer. After he welcomed me to the offices of his Olaiya Naturalist Hospital in Ibadan, Nigeria, he led me to a small, windowless room where a patient was shackled to a rusty engine block, recovering, as Mojeed put it, from "head surgery." Three days earlier, Mojeed had used a razor blade to make a long incision in the patient's scalp, then filled the gash with herbs in order to allow malevolent spirits to escape through the wound.
The room was the last in a row of cubbyhole-like shops that sit in front of Mojeed's house, concrete painted sea-green, with double doors cut from the walls of shipping containers. Mojeed's wife operates a hair salon in one of the rooms, small general stores rent two rooms in the middle, and at the other end of the row, Mojeed keeps a small office lined with shelves of herbal concoctions in recycled plastic water bottles.
Back in his room, Mojeed's patient was sprawled out on a mat across the entrance, using his arms to shield his head as he slept. A chain around both ankles left him enough slack to sit up and face the street or to turn and lean against the wall. Beside him, his mother sat silently, smiling. She planned to stay with her son at Mojeed's hospital for the next two months.
According to Mojeed, spirits had haunted the man periodically for 12 years. Before the surgery, he was hostile and violent. When his family delivered him into Mojeed's care, they brought him with his hands and feet bound with rope. The patient had been cursed by debtors in a business deal gone bad, Mojeed said, and his family had taken him to a series of spiritual healers with no change for the better. Standing in the doorway, Mojeed was ready to declare the surgery a success. "That is why he is sleeping," Mojeed said. "The medicine is taking effect."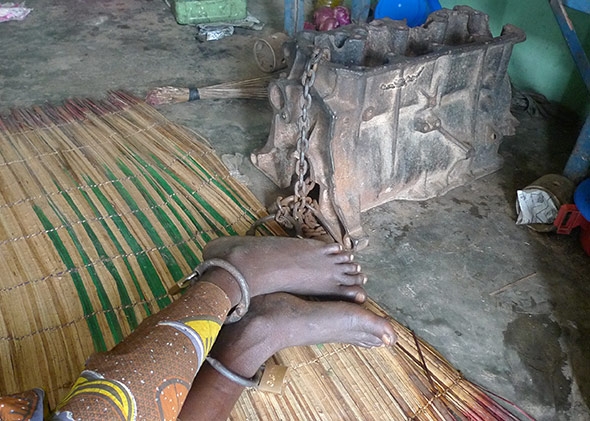 Professional psychiatric care is basically inaccessible for most Nigerians with psychosis, a term used to describe a broad range of conditions that involve some disconnect from reality, including schizophrenia and bipolar disorder. Fewer than 200 psychiatrists work in a country of 168 million, and since Nigerians usually consider psychosis a supernatural affliction, psychiatrists are rarely seen first, if at all.
Increase Adeosun, a psychiatrist who manages intake at Nigeria's largest psychiatric hospital, says patients usually only turn up there when the symptoms have reached a "melting point, when every other [option] has failed." Most have already put in long stints at churches and mosques—where they are often subjected to fasting and periods of isolation—or in centers run by traditional healers. Flogging and shackling patients is sometimes practiced at all three. The clinical rule of thumb for psychotic disorders, meanwhile, is "the shorter the onset, the better the prognosis," Adeosun says. As a result, psychiatrists typically find themselves treating the "treatment" as well as the illness, with many patients suffering from symptoms that have been exacerbated by the work of other healers.
But spiritualists like Mojeed represent the only consistent frontline psychiatric care in Nigeria. Whether they're Christians, Muslims, or animist complementary providers (medical jargon for traditional and faith healers), they are present in nearly every community in the country. In Ibadan, Nigeria's second-largest city, a single Muslim healer operates a facility that houses twice as many patients as the only psychiatric ward in town. For Nigeria's medical professionals, the trick is to convince spiritual healers to modify their treatments and even refer some cases to clinical doctors. If that type of collaboration happened on a large scale, it could transform the prognosis for thousands of people suffering from acute mental illnesses.
That's exactly the cooperation that Ibadan psychiatrist Oye Gureje is hoping to encourage. He's the principal investigator of a six-country research project called the Partnership for Mental Health Development in Sub-Saharan Africa. Gureje says that the goal of the program, which is funded by the U.S.-based National Institutes of Health, is to design a collaborative "shared care" program between professional psychiatrists and traditional healers. The hope is to spare patients from the most harmful practices, and ideally have some referred to specialists for treatment sooner rather than later. African medical literature is rich with studies on how both patients and practitioners view mental illness and its causes, but this is the first research project devoted to evaluating the feasibility and benefits of psychiatrists and traditional healers practicing in tandem. "We don't really know how it will work," says Gureje. "We just have to wait and see."
It's clear that Gureje would like to see the traditional healers phased out immediately. But he has to be more pragmatic. "It will be decades before we have enough psychiatrists in Nigeria to meet the need. Until we're able to convince people that their worldview is wrong, that there is no supernatural causation of mental illness, these people are going to be patronized," says Gureje. "If that is the case, what can we do to make their practice less harmful, to make it beneficial to patients?"