Selling Pablo
The drug lord terrorized Colombia. Now his country struggles with the idea of profiting from his bad name.
Although Hacienda Nápoles staff say they are discouraged from answering any questions about the previous owner, when I visited on an excursion organized by Palenque Tours (a company owned by two political scientists), we did make a stop at the one place on the property where his legacy is mentioned: the ruins of Escobar's personal home. Ravaged by shovel-wielding locals looking for riches allegedly buried under the pool and in the walls, its gutted rooms have been turned into the Memorial Museum, which presents a grisly timeline of Escobar's life, rampage, and death.
Colombians don't need to take the trip to his former estate to confront Escobar's legacy; his life story is a made-for-TV drama. Pablo Escobar: Boss of Evil is the most ambitious production ever undertaken by Caracol TV, with more than 70 episodes involving 450 locations and 1,300 actors at an average cost of $160,000 per episode. The series is remarkably personal for its creators, who each have painful connections to his crimes. The show's writer and producer, Juana Uribe, is the daughter of journalist Maruja Pachón, who was kidnapped by Escobar. Uribe's uncle was former presidential candidate Luis Carlos Galán, who was murdered by the cartel. The series co-producer is Camilo Cano, whose father was a newspaperman who was also slain by the cartel.
More than 11 million viewers—nearly a quarter of Colombia's total population—tuned in to the debut of the series. The series producers say their aim has been to set down the full facts of the Escobar era in one place. Each episode begins with the warning: "Those who ignore his story are condemned to repeat it."
It is possible, however, to take Escobar commerce too far. Escobar's son, who fled to Argentina with his mother and sister and is now an architect living under the name Sebastián Marroquín, recently filed a petition to trademark his father's name, passport image, and other official documents to be used as graphics on his Escobar Henao line of $170 jeans and $95 T-shirts. (The clothing company's tag line is "In Peace We Trust.") Marroquín has said that the clothes are intended to be "an auto criticism of my father's history, and an invitation for the youth to be conscious of the dangers of entering the drug and drug trafficking world." Colombia's superintendent of industry and commerce denied his trademark petition, arguing that granting the permission could "disrupt public order."
In an interview at an upscale Medellín restaurant, Escobar's sister, Luz María Escobar Gaviria, says she has nothing against making a profit off her family's name. She is currently finishing a book about her brother and is considering opening an Escobar Museum in Medellín. Still, she agrees that selling the Escobar legacy doesn't help Colombians move out from under the shadow of her brother, whom she admits "was no saint." LuzMa, as she's commonly called, says she wants to see a South Africa-style Truth and Reconciliation Commission in Colombia, but until that happens, she is making her own gesture: leaving hand-written apologies on the graves of her brother's known victims.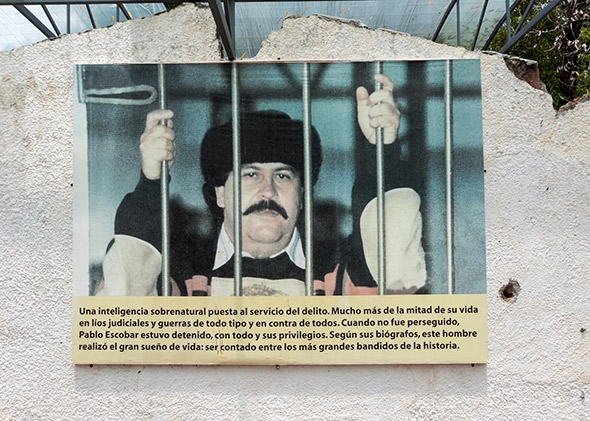 Medellín-born artist Fernando Botero, famous for his enormous bronze sculptures of bulbous animals and naked people, has his own complicated history with Escobar. The artist reluctantly admits that the drug lord owned some of his paintings (a fact he considers "repugnant"), and drug violence has also been a theme of Botero's work, including his two-part painting Killing Escobar, which depicts the drug lord's ignoble rooftop death.
These days Botero, who is 81, is ready for fresh inspiration. "I want to paint peace in my lifetime," the artist says. "I try to remember the Colombia that I knew when I was a young man. The good Colombia."
Lately he's become more optimistic that Colombia can become the country he craves, and concedes that selling Escobar can be part of that process if it keeps Colombians from forgetting. "Part of the story of every country is dark," Botero muses. "In America, you have Al Capone. Someone has the idea to charge money to see where Escobar died? I do not argue with that. We can't forget completely."