Why the French Secretly Love the Golden Arches
How McDonald's conquered the world by becoming a defender of local cuisine. Anyone for a McCamembert?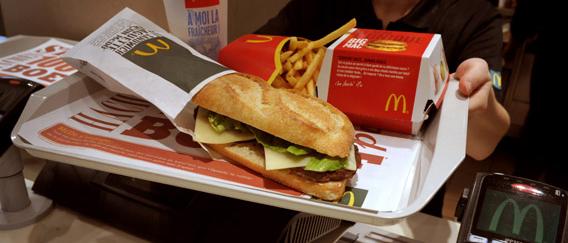 Each Friday Roads & Kingdoms and Slate publish a new dispatch from around the globe. For more foreign correspondence mixed with food, war, travel, and photography, visit their online magazine or follow @roadskingdoms on Twitter.
PERPIGNAN, France—The only review I can find online for the McDonald's on Boulevard John Fitzgerald Kennedy in Perpignan, France is exactly three words long: tres bon restaurant!
When I arrive at nearly 3 p.m., a few hours past the typical lunch rush, it seems as if all of southern France shares this sentiment: The parking lot is packed, men in suits linger by the entrance, a group of painters waddle toward their truck with lazy smiles and swollen stomachs. Inside, a man holds an iPad in one hand, a beer in the other. A couple in big cushy chairs review architectural plans over a café au lait and a crème brûlée.
It's not quite a bistro, but it's close. This is McDonald's as a decidedly more grown-up experience, where hard plastic is traded for leather banquettes, pull-out chairs for angular cushioned stools, and golden arches for burnt sienna and low-lit nooks where couples can steal a quiet moment. You can still find a Big Mac and a box of nuggets here, but they are overshadowed on the menu boards by the bigger stars of the French universe: the McDoo, a warm ham and cheese take on the croque-monsieur, leafy salads that bounce like a Kardashian's backside, and a line of burgers featuring artisanal French cheeses like Comté and Camembert that McDonald's rolled out earlier this year.
I have come for the McCamembert, but I'm told the burger has sold out all across France, so I settle for a McRaclette, named for the famous cow's milk cheese from the Alpine highlands. It arrives on a chewy roll with crunchy wisps of lettuce, a garlicky mayonnaise, a thick patty that stretched well beyond the borders of the bread, and, most importantly, a slice of ripe raclette cheese, mid-meltdown.
An amazing thing happens when I bite into the burger: A stream of juice dribbles down my chin. The patty is fashioned from a local breed of grass-fed cow common in French steakhouses. The cheese lends the same viscous coverage of a slice of American cheese, but with a pleasant nutty undertone. Paired with a spring salad and washed down with a cold Heineken, it makes for a kind of surreal McDonald's experience. Afterward, I decamp to the McCafé for a cappuccino and a plate of green tea macarons.
It may surprise some, but McDonald's France—called MacDo by the locals—is the highest-grossing McDonald's market outside of the United States (despite the fact that worker pay, a recent source of controversy in the United States, starts around $12 an hour—France's minimum wage). It's a fun story to tell: the low-brow American chain that won over the fastidious French. Something about it makes Americans feel like a warm apple pie inside. That'll show those French snobs! But this didn't happen by accident. If McDonald's has found success in France, it's because in many ways it has become the anti-McDonald's: The service is warm, the interiors thoughtfully designed, and, above all, the food—from the baguette vessels to the pain au chocolat to the camembert-swaddled patties—is made for French palates.
Before you book a two-top for Friday night, remember that this is still fast-food: The beef, while grass-fed and hormone-free, still comes from an industrial cattle lot, the lettuce still wilts under the glare of a heat lamp, the tomatoes are redolent of, well, nothing in particular. While you're here, you're not likely to forget that you're eating at a multinational chain restaurant, but with enough macarons and Camembert in your belly, it may just soften your opinion of the golden goliath.
The secret sauce at McDonald's used to be lockstep consistency, the fact that a meal in Memphis tasted the same as it did in Moscow or Madrid. But the novelty of the American hamburger stand has worn off in the new millennium, and with it McDonald's ability to export American culture as its staple commodity. A cheeseburger, fries, and Coke don't register the same level of excitement when the café next door and the bistro down the block are also serving burgers. More and more, the key to McDonald's future appears to be found in the DNA of the places it inhabits. And with it, suddenly the fast-food giant that to many represents the globalization of taste suddenly finds itself in a very unlikely position: as a defender of local cuisine.
"We want to be able to share local flavors around the world," says Chris Young, McDonald's senior director of global menu strategy. "If you happen to travel around the world, you'll see your favorites there and you'll see some things you've never seen or heard of before."
Beyond an obligation to run a handful of iconic McDonald's items—cheeseburger, Big Mac, Chicken McNuggets—local owners around the world have the freedom to play with both décor and menu. "Innovation occurs in the marketplace. It doesn't occur here in Oak Brook," says Young, referring to the company's global headquarters in Illinois. "It occurs where our customers are."
The result is not just funky one-off menu creations (shrimp burger! McKielbasa!), but regional philosophies that play out over the entire McDonald's experience. "In Asia, you'll see a lot more spicy things, a lot more of those umami flavors, those things to make you salivate. You'll go over to Europe, where the menu is more refined, the tastes more relevant from a local standpoint."