Base Motives
Trump panders exclusively to the minority of people who love him—and to hell with the rest of America. That's exactly what Putin wants.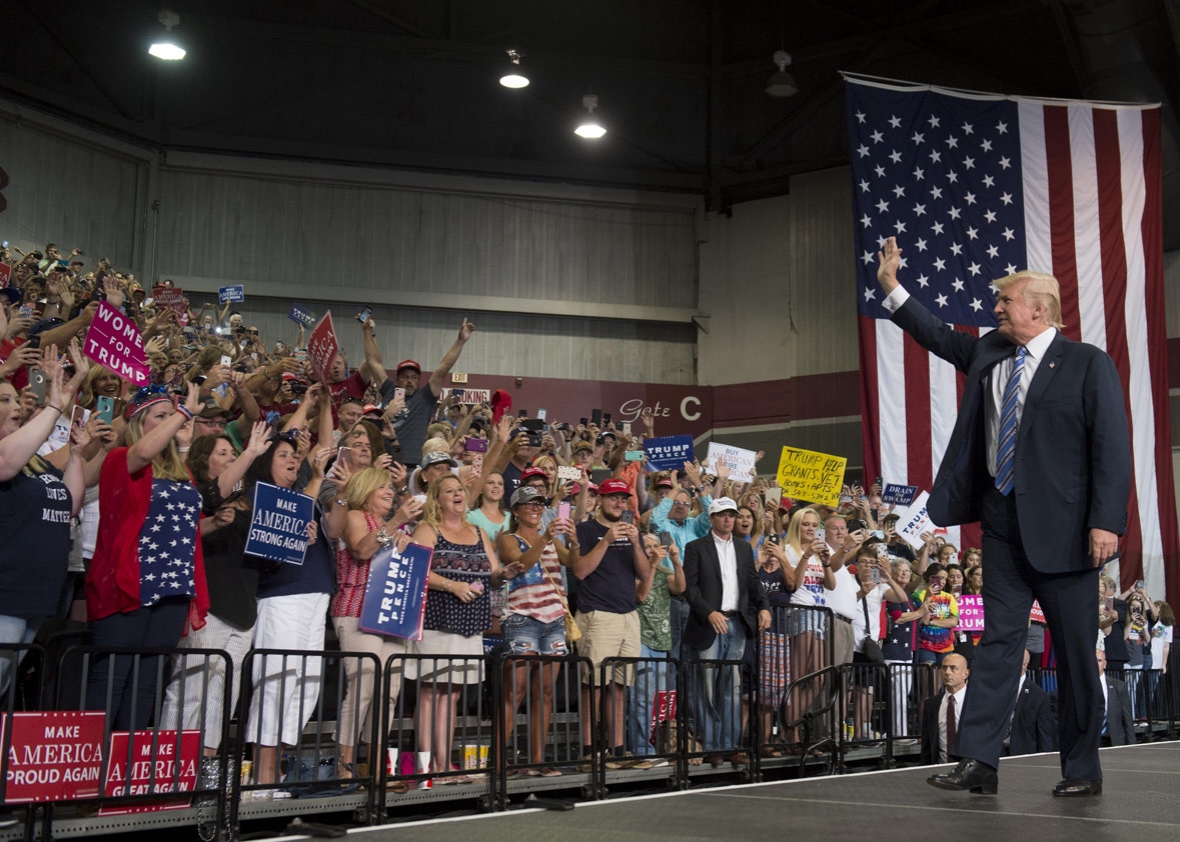 On Jan. 6, two weeks before Donald Trump was sworn in as president, leaders of the U.S. intelligence community presented him with a report on Russian interference in the 2016 U.S. presidential election. Since then, Trump has refused to accept their consensus on Russia's guilt, and his aides have been caught—in a chain of emails from June 2016—colluding with Russian intermediaries. But out in the open, Trump has done something far more destructive. He has pursued the central Russian objective outlined in the report: the political dissolution of the United States.
Want to listen to this article out loud? Hear it on Slate Voice.
Listen to an audio recording of this article
Get Slate Voice, the spoken edition of the magazine, made exclusively for Slate Plus members. In addition to this article, you'll hear a daily selection of our best stories, handpicked by our editors and voiced by professional narrators.
Start your free 2-week trial
Your Slate Voice podcast feed
To listen to an audio recording of this article, copy this link and add it to your podcast app:
For full instructions see the Slate Plus podcasts FAQ.
The overarching goal of Vladimir Putin's hacking and disinformation campaign, according to the Jan. 6 report, wasn't to elect Trump or defeat Hillary Clinton. It was to "undermine public faith in the US democratic process." An appendix to the report noted that Russian propaganda in the U.S. "aimed at promoting popular dissatisfaction with the US Government." A separate expert analysis prepared in October by the nonpartisan Center for Strategic and International Studies and outlined to Congress in March described Russia's strategy of sabotaging democracies by "deepening political divides," "weakening the internal cohesion of societies," and "using democratically elected individuals in positions of power to challenge the liberal system from within."
As president, Trump has pursued this mission with gusto. That doesn't mean he has served Putin deliberately; I doubt he has. But Trump has attacked the fabric of America in unprecedented ways. Typically, a new president spends his first months appealing to people who didn't vote for him to pull the country together and advance a broadly shared agenda. He does this out of practicality, but also because he understands that he has a responsibility to represent the whole nation. Trump lacks this understanding.
In 2000, George W. Bush won the presidency but lost the popular vote by half a million ballots. So he reached out to blue states. In a six-week stretch beginning in late February 2001, Bush spoke in Pennsylvania, Iowa, Illinois, New Jersey, Maine, Michigan, and Delaware. None of these states had voted for him. Bush addressed the Hispanic Chamber of Commerce, a gathering of black leaders, and the American Society of Newspaper Editors. He routinely praised Democratic officials, such as Chicago Mayor Richard M. Daley, who had opposed him in the election. He also praised Republican Sen. Susan Collins of Maine for speaking her mind against some of his ideas, and he called for a "culture of respect" between Republicans and Democrats.
In 2008, Barack Obama won the presidential vote by nearly 10 million ballots. Nevertheless, from February to August 2009, he spoke in several red states. In May 2009, Obama went to Notre Dame University and offered an olive branch to pro-lifers, even those who disrupted his remarks. He warned against "demonizing" people of different beliefs, and he told the story of a doctor who had written to him during the campaign:
What bothered the doctor was an entry that my campaign staff had posted on my website, an entry that said I would fight "right-wing ideologues who want to take away a woman's right to choose." … He wrote, "I do not ask at this point that you oppose abortion, only that you speak about this issue in fair-minded words." … I said a prayer that night that I might extend the same presumption of good faith to others that the doctor had extended to me. Because when we do that, when we open up our hearts and our minds to those who may not think precisely like we do … that's when we discover at least the possibility of common ground.
It's impossible to imagine Trump delivering those words. Despite losing the popular vote by nearly 3 million votes—easily the worst performance of any presidential winner in history—Trump has made no effort to unite the country. Six and a half months into his term, he has yet to address ordinary people in any of the 20 states that didn't elect him. Trump's only travels in these states—Connecticut, Delaware, Maryland, New Jersey, New York, and Virginia—have been to his private clubs, military sites, a police audience, the Conservative Political Action Conference, and Liberty University, a bastion of Trump supporters on the Christian right.
Worse, Trump has urged his followers to revile the rest of the country. After his election, he embarked on a tour of states that had voted for him. In venue after venue, he invited crowds to savor the anguish of defeated liberals. In March, at a rally in Tennessee, he called reporters "bad people" and incited the crowd to turn on them. In June, he told Iowans that Democrats were "unbelievably nasty" and joked he was making it "hard to get their support—but who cares?" Last week in West Virginia, he urged prosecutors to investigate Clinton, and he egged on supporters as they chanted, "Lock her up!"
Trump's attacks on Democrats, courts, federal agencies, and even fellow Republicans have alienated most Americans. But unlike previous presidents, Trump doesn't worry about what most Americans think. He worries about what the people at his rallies think. "The Trump base is far bigger & stronger than ever," he tweeted Monday. "Look at rallies in Penn, Iowa, Ohio, and West Virginia." Trump brushed aside his depleted approval ratings, boasting that his behavior had "driven the Trump base even closer together." A few minutes later, he repeated: "The Trump base is getting stronger!"
In reality, Trump's base is shrinking. But for a nation torn apart, that's little consolation. Every day, we struggle to cope with a president who treats most of his countrymen as enemies. How far he went to collude with Russia last year remains a mystery. One thing we know for certain is this: In January, Trump was told how Putin hoped to destroy America. And Trump is doing exactly that.