Ready for Anything
David Brock's super PAC network is fending off every attack on Hillary Clinton. The book tour is barely the end of Round 1.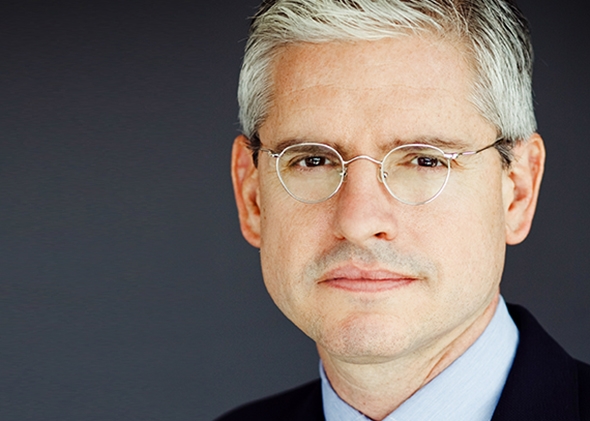 Hillary Clinton's face looms over the offices of Correct the Record—in a friendly way. The young PR operation's 18 workers do their typing and designing and debunking next to a blown-up version of that 2011 photo in which the former secretary of state is checking her BlackBerry on a flight from Malta to Tripoli, behind dark sunglasses. That photo inspired the Texts From Hillary Tumblr, and was painted on the Ready for Hillary PAC's bus before it started schlepping around the country.
It's kitsch from Clinton's finest hour, from the postelection, pre-Benghazi period when a pundit could call her "a great secretary of state" and hear no coughing or guffawing. A few steps away, past the shelves full of David Brock's books—his 2002 memoir of the conservative movement he left, and the much less heretical 2012 The Fox Effect—sits American Bridge's president, Brad Woodhouse.
American Bridge is the permanent campaign that's currently trying to save the election for Democrats. Correct the Record, launched in November 2013, is a subsidiary focused on the next election. Both organizations live to fight Republicans, just as Media Matters—the Brock project from which all of this grew—lives to rebut "conservative misinformation" in the press.
But Media Matters and American Bridge respond to everything. Correct the Record has only one mission. In an interview with David Freedlander, Brock said he dreamed up the project after Republicans held hearing after hearing on Benghazi. "There was no, or limited, capacity for her to deal with the range of attacks," he said, referring to Clinton. In October, Brock co-authored a book titled The Benghazi Hoax, and within weeks Correct the Record was there to insist that "Hillary Clinton was the 'most on top of the situation' on the night of the attack."
I dropped by the Brock-verse a few weeks after the release of Clinton's memoir Hard Choices. The conventional wisdom is that the tour could have gone better—more book sales, fewer verbal somersaults about her wealth and gay marriage stance.
Correct the Record wants everyone to know that the media blew it. It had been sending out weekly updates of Clinton book sales, because there was a story out there that she was flopping. The first memo, from July 2, ran to more than 4,000 words, and insisted, "Critics have praised the authenticity and insight of the former Secretary of State's new memoir" and that "Hard Choices sold more in its third week than Rand Paul and Jeb Bush's books did total, combined!" (Exclamation point in the original.)
Woodhouse wants me to appreciate the long game that CTR is playing. They don't just do rapid response, though of course they're "very good" at it.
"You can hand people a list of 100 Hillary Clinton accomplishments, or 30, or whatever, from the State Department or her life, and nobody's even reporting on them," says Woodhouse, sitting behind his two computer screens and a TV tuned to MSNBC. "They're reporting on whether she had a gaffe. But one thing Correct the Record is doing is citing and placing a lot of op-eds, putting surrogates out on TV, to talk about her accomplishments. And all that stuff is going to be somewhere for someone to use later on."
Right. It's not like CTR can force the media to use this material. It can only politely inform the press that it's falling for right-wing spin. CTR's own spin has described an attack on the Clintons' wealth as an attack on the "profoundly American success and philanthropy of Bill and Hillary Clinton," and criticism of her speaking fees as "relentlessly attacking Hillary Clinton for raising money for universities."