The Crisis in Black Homeownership
How the recession turned owners into renters and obliterated black American wealth.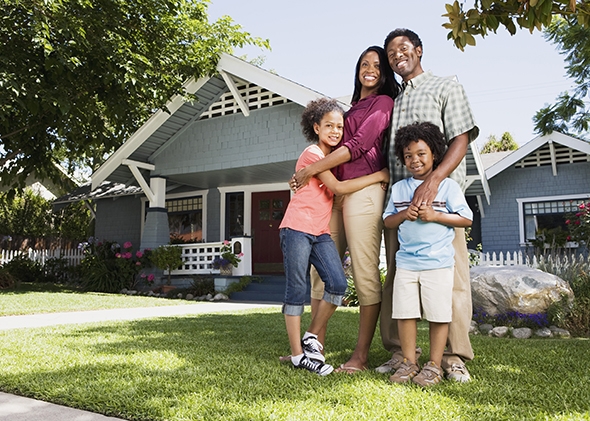 In 2005, three years before the Great Recession, the median black household had a net worth of $12,124. Yes, this was far behind the median white household—which had a net worth of $134,992—but it was a huge improvement from previous decades, in which housing discrimination made wealth accumulation difficult (if not impossible) for the large majority of African-American families.
By the official end of the recession in 2009, median household net worth for blacks had fallen to $5,677—a generation's worth of hard work and progress wiped out. (The number for whites, by comparison, was $113,149.) Overall, from 2007 to 2010, wealth for blacks declined by an average of 31 percent, home equity by an average of 28 percent, and retirement savings by an average of 35 percent. By contrast, whites lost 11 percent in wealth, lost 24 percent in home equity, and gained 9 percent in retirement savings. According to a 2013 report by researchers at Brandeis University, "half the collective wealth of African-American families was stripped away during the Great Recession."
It was a startling retrenchment, creating the largest wealth, income, and employment gaps since the 1990s. And, if a new study from researchers at Cornell University and Rice University is any indication, these gaps are deep, persistent, and difficult to eradicate.
In the study, called "Emerging Forms of Racial Inequality in Homeownership Exit, 1968–2009," sociologist Gregory Sharp and demographer Matthew Hall examine the relationship between race and risk in homeownership. Simply put, African-Americans are much more likely than whites to switch from owning homes to renting them.
"The 1968 passage of the Fair Housing Act outlawed housing market discrimination based on race," explained Sharp in a press release. "African-American homeowners who purchased their homes in the late 1960s or 1970s were no more or less likely to become renters than were white owners. However, emerging racial disparities over the next three decades resulted in black owners who bought their homes in the 2000s being 50 percent more likely to lose their homeowner status than similar white owners."
This wasn't a matter of personal irresponsibility. Even after adjusting for socio-economic characteristics, debt loads, education, and life-cycle traits like divorce or job loss, blacks were more likely to lose their homes than whites.
If you're familiar with American history and housing policy, this shouldn't come as a surprise. The explicit housing discrimination of the mid-20th century has left a mark—arguably a scar—on the landscape of American homeownership. The combination of redlining, block-busting, racial covenants, and other discriminatory measures means that, even now, a majority of blacks live in neighborhoods with relatively poor access to capital and mortgage loans. What's more, this systematic discrimination has left many black households unable to afford down payments or other housing costs, even if loans are available.
And in the event that black households are able to save and afford a home, they aren't as financially secure as their white counterparts. To wit, middle-class African-Americans are more likely to belong to the lower middle class of civil servants and government workers—professions that, in the last five years, have been slashed as a consequence of mass public-sector downsizing. All else being equal, a black schoolteacher who loses her job to budget cuts is less likely to have savings—and thus a safety net—than her white counterpart.