Aiming High
Boredom. Drugs. Low Morale. The millennials of the U.S. nuclear missile corps are struggling to stay on high alert for a nuclear Armageddon.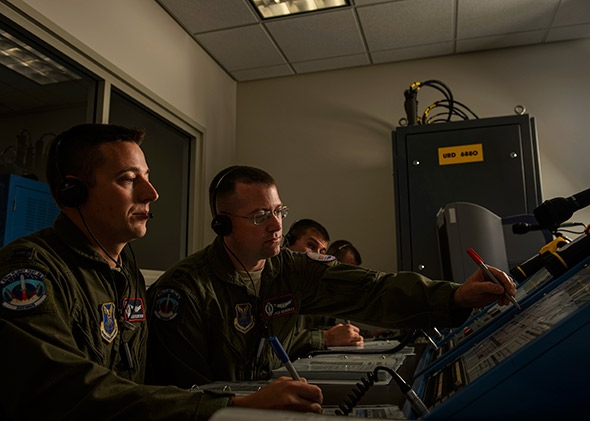 Every day 90 uniformed men and women in their mid-20s ride elevators 40 to 60 feet below remote fields in Montana, Wyoming, Colorado, North Dakota, and Nebraska in rote preparation for improbable nuclear Armageddon.
They spend some of their 24-hour alerts seated in front of steel Minuteman III missile launch control panels mounted on shock absorbers, with toggle switches capable of hurling 10 to 50 nuclear warheads—each with 20 times the explosive force of the Hiroshima bomb—to the other side of the globe, at speeds of 15,000 mph.
But their day-to-day enemy, for decades, has not so much been another superpower, but the unremitting boredom of an isolated posting that demands extreme vigilance, while also requiring virtually no activity, according to accounts by missileers and a new internal review of their work.
That understandable boredom, when paired with the military's sky-high expectations for their workplace performance, has pushed some of them to use drugs, others to break the rules, and still more to look for any way out.
The millennials who populate this force can watch television, read, study, or sleep in their cramped, often damp quarters. But their checklist routines are typically unvarying, and their moment-to-moment responsibilities are few, and the temperature underground—like the policy requiring their presence—is unnervingly stuck in the mid-60s.
Referring implicitly to the officers' ability to wreak almost unimaginable destruction on foreign populations, Col. Robert Vercher, the commander of a missile wing at North Dakota's Minot Air Force Base, told the Air Force's news service in February that "there is no other Air Force unit, other than our sister ICBM wings, where we put this much responsibility on very junior Airmen."
Their official job criteria require that they have a "positive attitude toward nuclear weapons duty." Those who don't feel up to detonating such warheads are generally referred either to chaplains, legal counsels, or "mental health clinicians," the Air Force says, to try and set them straight. Moreover, until recently, the Air Force's policy dogma for the force—dating at least from a 2007 episode in which the command lost track of six nuclear warheads fitted atop cruise missiles for a day—is that mistakes cannot be made.
"Perfection is the expectation" for "America's frontline missile operators," an article from the Air Education and Training Command stated in late 2011. "In what you do every day, there is no room for error, none," Secretary of Defense Chuck Hagel reiterated during a visit to Wyoming's F.E. Warren Air Force Base three months ago.
But now—when the national nightmare typically involves a terrorist's smuggled bomb on the subway rather than another nation's missile attack over the North Pole—even the Air Force admits that motivating these young officers to fulfill the service's standard of perfection in their ICBM knowledge and skills is essentially an unachievable goal.
Lt. Gen. James M. Holmes, a former fighter pilot who is now vice commander of the Air Force's training command, acknowledged as much in a revealing 268-page report he completed in February about the grim life of the missileers. Senior Air Force leaders, he said, had repeatedly ordered a "zero defect" nuclear culture that is "unrealistic and unobtainable." The consequence of making such demands was not to improve performance but to worsen morale and promote dishonesty, the report concluded.
"Leadership's focus on perfection led commanders to micromanage their people … imposing an unrelenting testing and inspections [regime] with the goal of eliminating all human error," Lt. Gen. Stephen Wilson, commander of the Air Force's Global Strike Command, said as he endorsed the Holmes report, which was released in late March. "This approach is unrealistic."
The Air Force is now planning to ask for less perfection from its 9,600-member missile corps, a result that is practical, or perhaps inevitable, given the job's inherent limitations, even if it is also a disquieting standard for a group with its fingers on such consequential buttons.
Holmes' report was sparked by an Air Force probe of drug dealing by two lieutenants in contact with the nuclear missile workforce, which began last August and quickly blossomed into an investigation of widespread cheating on the missileers' proficiency tests at the Malmstrom Air Force Base, a Montana facility with 150 nuclear-tipped Minuteman III missiles.
The drug-dealing probe—which may be the most alarming aspect of the current tumult—remains open, and the Air Force has said little about it. But the two officers at its center, both in administrative jobs, allegedly sent messages to 11 others about "specific, illegal drug use … [including] synthetic drugs, ecstasy, and amphetamines," according to the Holmes report.
Two of those who received these messages about drugs at Malmstrom were combat crew members—those with responsibility for actually launching Minuteman missiles, according to a spokeswoman for the Global Strike Command that oversees the missile force. Another recipient was a missile combat crew member at Warren, which has another 150 Minuteman IIIs.
The Defense Department likes absolutes, at least in its policies. It has a stated zero tolerance for drug abuse and mandates frequent urine testing for its nuclear weapons officers. But drug use of some kind has a long history in the nuclear missile corps, according to Bruce Blair, a former deputy missile combat crew commander who is now a research scholar at Princeton University and advocates eliminating the Minuteman force.
During his four years at Malmstrom in the early 1970s, Blair recalled recently, he sometimes passed the time by eavesdropping on radio chatter by security guards on patrol. He discovered their discussions were often about where to find bags of pot deliberately stashed near missile silos. On his final day on alert in a launch capsule in 1974, Blair added, security officers with dogs swept through the command quarters overhead and snagged the cook, the security chief, and the facility manager.
"Everybody [topside] was high," Blair said. "They were all relieved of duty."