The Schoolyard Fight
Michelle Rhee's new organization is giving millions to support conservative candidates in dozens of states.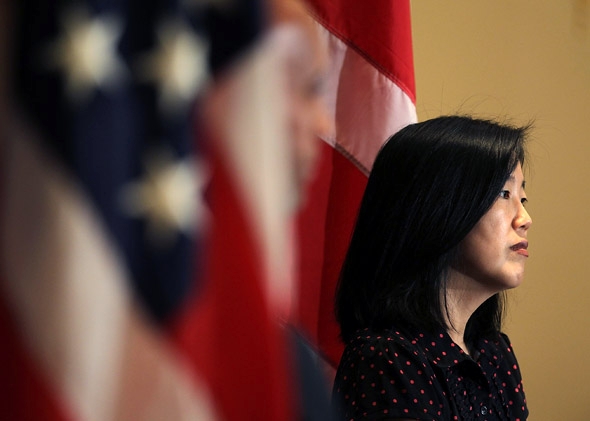 Three weeks before Tennessee's August 2012 primary election, state Rep. John DeBerry Jr.'s Memphis-area district was flooded with $52,000 worth of get-out-the-vote efforts supporting the then-nine-term incumbent. Six days later, another $52,000 in materials appeared.
By Election Day, the Tennessee affiliate of StudentsFirst, the education-focused organization behind the influx of support, had spent more than $109,000 backing DeBerry, a rare Democrat who supports voucher programs and charter schools. The state branch of the American Federation for Children, another education group, chipped in another $33,000. DeBerry faced another Democrat, state Rep. Jeanne Richardson, whose district was eliminated through redistricting.
"I couldn't counter it," Richardson said of the funds StudentsFirst introduced late in the race. "I had to raise money by calling people. There wasn't enough time left."
StudentsFirst—created by former Washington, D.C. schools chief Michelle Rhee—is leading a new wave of "education reform" organizations, funded largely by wealthy donors, that are challenging teachers' unions and supporting mostly conservative candidates up and down the ticket in dozens of states. These groups promote charter schools, voucher programs, and weakening of employment safeguards like teacher tenure, all ideas bitterly opposed by unions.
StudentsFirst flooded at least $3 million in outside spending into state elections in 2012, putting the group roughly on par with the Service Employees International Union, or SEIU, across 38 states examined by the Center for Public Integrity and the National Institute on Money in State Politics.
The Sacramento, Calif.-based group is far from the only education reform organization that has gained prominence in the aftermath of the 2010 Supreme Court decision that made it easier for corporations to fund political campaigns. Among the biggest spenders: the American Federation for Children, 50CAN, Stand for Children, and Democrats for Education Reform. The organizations flooded states across the country with independent advertising and canvassing efforts in the run-up to the 2012 primary and general election.
They have been funded by a slew of billionaire donors, like philanthropist Eli Broad, former New York Mayor Michael Bloomberg, hedge fund manager Dan Loeb, and Netflix CEO Reed Hastings. However, the full list of funders opening their checkbooks for the education reformers remains a mystery since StudentsFirst and many of the other groups are so-called social welfare nonprofit organizations, which fall under section 501(c)4 of the U.S. tax code. Such groups are not required to reveal their donors.
Since 2012, the funding onslaught by these groups and their backers has shown no signs of slowing. Spending has reached unheard of heights, even at the school board level. The race for Los Angeles school board in May 2013 attracted nearly $4 million in spending on reform-minded candidates. Major supporters of the pro-reform committee include Bloomberg, StudentsFirst, and Broad, a Los Angeles resident. The organization was countered by roughly $2 million from labor groups.
The American Federation for Children spent $110,000 in outside spending supporting three candidates for the Wisconsin State Assembly in the run-up to an election on Nov. 19, 2013. Great Seattle Schools, an education reform-focused political action committee, spent just shy of $62,000 in outside spending in the months leading up to the city's November 2013 school board election. Democrats for Education Reform was among the committee's backers, as were local wealthy figures like Chris Larson, a former Microsoft executive who owns a minor stake in the Seattle Mariners, and venture capitalist Nicholas Hanauer.
At the helm of this movement, StudentsFirst has dominated campaigns for state legislators and ballot initiatives that often seem outside the group's education-focused mission statement. As StudentsFirst faces off with labor groups and labor-backed candidates, the group's considerable financial heft may be shaping more than education policy.
Rhee, the controversial former chancellor of Washington's public school system, established StudentsFirst not long after resigning her post in 2010. The new organization's goal, she said, would be to provide some much-needed opposition to the teachers unions' political power.
"The problem to date has been that you've had these incredibly powerful teachers unions that have lots of resources, and they use those resources to have influence on the political process," Rhee said last year during an interview at the Commonwealth Club of California. Rhee said StudentsFirst is the first education-oriented national interest group to seriously challenge the unions.
Since leaving Washington, Rhee has backed legislation curbing collective bargaining rights in several states. In the 18 states where the group is active, StudentsFirst has fought to eliminate "last in, first out" provisions in teachers' contracts and to increase the role that quantitative evaluations play in teachers' job security.
Accordingly, StudentsFirst tends to oppose candidates who align with unions. Among these union-supported candidates in 2012 was Michigan State Rep. Rashida Tlaib, an incumbent who ran against fellow incumbent Rep. Maureen Stapleton in the Democratic primary as a result of statewide redistricting. Though Stapleton was a former teacher in the Detroit Public Schools, Tlaib received the endorsements of the Michigan Education Association and the Michigan Federation of Teachers. Stapleton, on the other hand, backed charter schools and linking teacher salaries to performance, both key components of StudentsFirst's mission. Between July 20 and the Aug. 7 primary, StudentsFirst poured $195,000 in outside spending supporting Stapleton. Meanwhile, the Michigan Federation of Teachers, the Michigan Education Association, and several other labor groups contributed directly to Tlaib's campaign.