Mitt Wins Nevada With Friends and Family
With the help of his fellow Mormons—and his second cousin—Romney had it all along.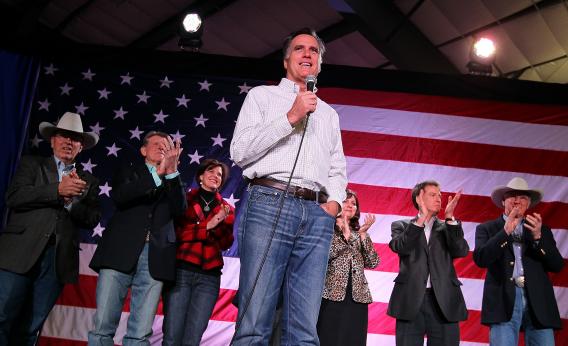 LAS VEGAS—"It's a very scripted process," warns Mary Burgar, our caucus captain. "I apologize in advance if it looks like I'm reading from something. It's because I'm reading from something."
No complaints. There are nine voting Republicans in this classroom decorated with old newspaper covers for the Durango High School journalism class that usually meets here. The instructions for the presidential caucuses are written on a white board, next to the documents Burgar will read aloud. Three tow-haired boys entertain themselves quietly as their mother takes notes. A 10th Republican walks in right after 9 a.m. and joins us at one of those all-in-one desk-chairs that are uncomfortable when you're a teen, unbearable when you've reached middle age.
"How many voters are in our precinct?" asks Monica Johns, sitting next to her husband, Rick.
"There are 181 voters," says Burgar. "So, we'll need to assign four delegates."
"One hundred and eighty-one!" says Monica. "Why aren't the neighbors here? We should T.P. their house!"
This is only the second time Nevada has held a caucus at the start of the nominating process. It's still learning. The local GOP, spooked about fraud, has set up voter ID stations at two points on the high school's perimeter. Reporters have been issued oversized PRESS badges that theoretically allow them access to the caucus sites. It apparently wasn't enough for Ashley Powers, a Los Angeles Times reporter at a nearby precinct, who was branded a "spy" and chased out of the room like some Boris Karloff villain who'd frightened the villagers.
But the voters of precinct 6729 are too nice for that. Burgar asks who wants to serve as a state Republican delegate, warning that it means a six-times-a-year meeting and a $40 fee. "It says it costs more after this date," she reads, "but it doesn't say how much." Four voters quickly volunteer. All four are members of the Church of Jesus Christ of Latter-day Saints, and all of them support Mitt Romney.
"Is that fair?" asks Monica Johns after she volunteers. "Should someone who doesn't support Romney get to be a delegate?"
"I can't," says April Withers, the mother of the three distracted boys. She's going to support Ron Paul. "My husband works in North Dakota. I don't know where I'll be when the convention happens."
It turns out that only the Romney supporters have time to serve as delegates. The caucus meeting continues. Everyone is offered time to argue why a thinking American must support So-and-So for president. Ron Paul's voters go first.
"I was thinking about going for Gingrich," explains Al Becker Jr., who keeps his sunglasses on as he talks. "I was thinking, maybe, Ron Paul's austerity agenda was too harsh for the times. But then I talked to a young person, and he said he supported Paul because we needed to sacrifice now and he was ready to sacrifice. So, Ron Paul. That's all from me."
April Withers balances one of her sons on her knee. "I feel like Ron Paul's the only one who promises a future for my children," she says.
"Being told who's gonna win, or who's the only choice, doesn't influence me," says Joseph Gray. "I'm going to vote for Santorum."
"He seems to be a godly man," says another Santorum supporter.
"I don't think President Obama can be elected dog-catcher anyway," says Gray.
Four more caucus-goers speak out, all for Romney.
"He's taken jobs and done them well for no pay," says Dawson White, a Mormon businessman. "It might seem funny, but I like the fact that he has so many grandkids. I don't think he can help but care about the future."
Royce Rasmussen, a Mormon who travels to sell cleaning equipment, makes a more fiscal pitch for Romney. "My costs have increased between 7 and 9 percent, just to be abreast of the rules and regulations to run a business," he says. "I've got a bank meeting in March—I have no idea how to make a forecast for the new year. I'm voting for Romney"—he turns his head to the woman next to him—"and I hope my wife does, too!"
Withers speaks up. She'd detected some people ruling out Paul because of his foreign policy. "If you look at a pie graph of how many years we've been in wars, it's only a sliver that we haven't," she says.
"I just can't imagine him as a president," says Monica Johns, apologetically. "Going in there and negotiating with other leaders—can't really imagine that."
"I want [Paul] to tutor the other candidates in the Constitution," says Rasmussen.
"He could do both," says Withers. "He's going to be remembered as the modern Thomas Jefferson." She doesn't want to give up on the foreign policy. "The terrorists aren't just attacking us because they hate our way of life."
"No," says Gray, "they're angry at us because their God tells them to be!"
Withers isn't going to win. "You should watch the movie From Freedom to Fascism," she suggests. "Google it; you can watch it on YouTube."
As she wraps up, three stragglers and a kid walk in, sit down, and grab papers to vote with. The balloting takes less than a minute. Romney: nine. Paul: two. Santorum: two. The new arrivals, all Mormons, had voted for the winner.
"Eight of the nine votes for Romney were [Latter-day Saints]," says Rasmusssen, strolling out to find the delegate table. He thanks the Ron Paul supporters: "This was a very polite discussion!" Some of the Mormon couples chat on the way out; we are in a 400-strong Mormon ward in the near western suburbs of Vegas, where the Strip is visible from any third or fourth floor. In 2008, 26 percent of the Republicans who caucused were Mormon. On the way out, as the delegates write $40 checks, it's obvious that the pattern is repeating itself.
"One of the guys in my [caucus] room was named Norm Romney," says George Rivers, who, despite a Brigham Young University degree and a Romney ballot, is not Mormon. "Would you know it? He's Romney's second cousin."
Inside the school, I hadn't been able to get a good cellphone signal. Outside, the signal comes back, and tweets flood in about the 5-1, 7-1, 10-1 margins that Romney is winning in Clark County. If you had looked at the Nevada vote in 2008 and guessed what would happen if Romney and Paul ran again, you would have guessed exactly this: a big Mitt win, a libertarian surge. It's a fluke of the primary schedule, a result of some pre-2008 maneuvering by Sen. Harry Reid to empower his state, and it was always going to empower the Mormon candidate and the "End the Fed" guy. On Saturday, in small rooms and friendly conversations, Nevada Republicans were squeaking shut the door on anyone not named Romney.