The Silencing of Coretta Scott King
On Tuesday night, Elizabeth Warren was told to pipe down. But it was King's words that the Senate refused to hear.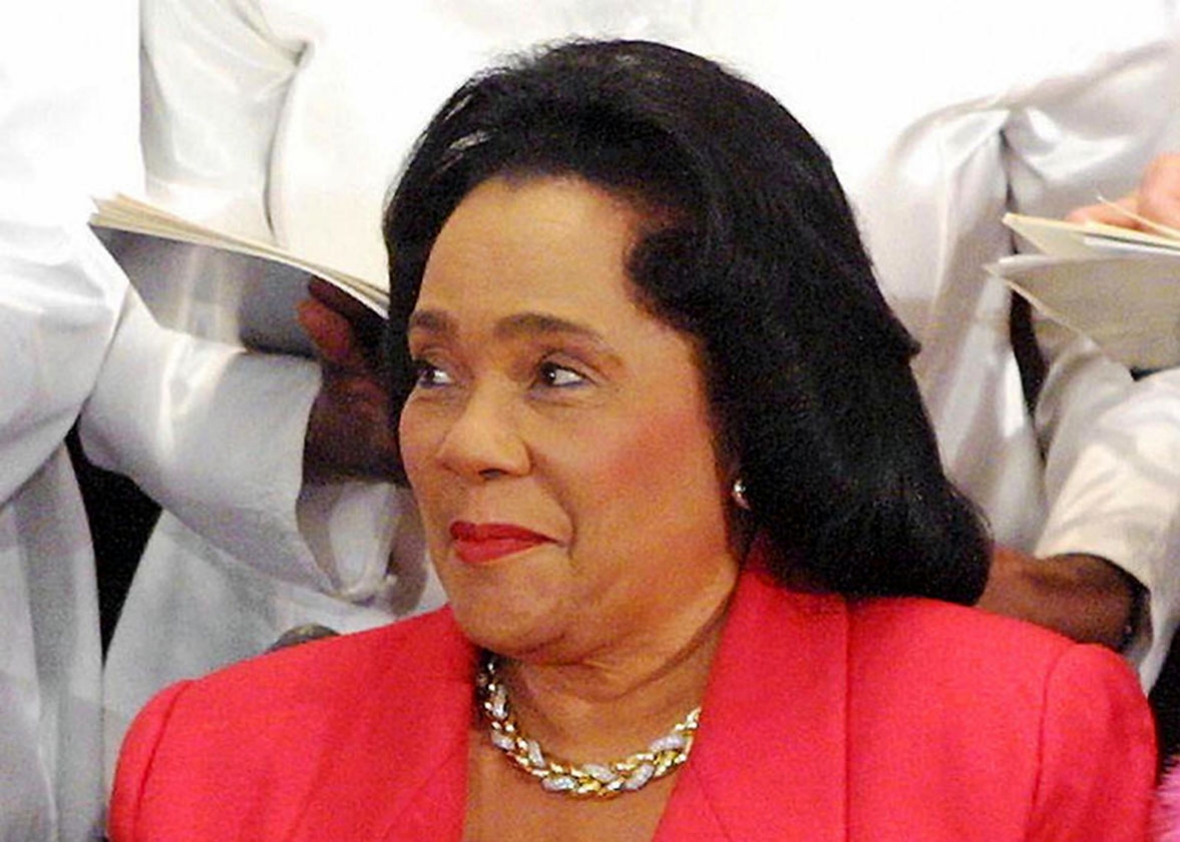 On Tuesday night, Sen. Elizabeth Warren attempted to read a letter about Jeff Sessions' fitness to serve in federal government at a hearing on whether Jeff Sessions was fit to serve in federal government. In that letter, written in 1986, Martin Luther King's widow Coretta Scott King urged the Senate to reject Sessions' nomination for a federal judgeship, arguing that he had "used the power of his office as United States Attorney to intimidate and chill the free exercise of the ballot by citizens."
As Warren began to read the letter, Senate Majority Leader Mitch McConnell stopped her, under what is known as Rule XIX, barring senators from ascribing "to another senator or to other senators any conduct or motive unworthy or unbecoming a senator." Senate Republicans, in a party line vote, then upheld the decision, which prohibits Warren from speaking again in the floor debate until the vote to confirm Sessions as attorney general.
But the silencing of a female senator reading a letter written by a black woman, during Black History Month, is only part of the story. Coretta Scott King's words weren't just silenced on the Senate floor on Tuesday. Her letter was almost disappeared in 1986 and only resurfaced shortly before Sessions' January hearings.
The entire document was made public for the first time by the Washington Post on Jan. 10, after an unidentified person leaked it to the newspaper. As BuzzFeed noted, before this year just one line from the letter had been made public, thanks to a dispatch written in 1986 by a Knight Ridder reporter. "For a century, the racial practices that characterized our region were established and enforced by men who, like Mr. Sessions, protested that they, too, were not personally hostile to blacks," King wrote.
Thanks to the Post, we now know the full sweep of King's remarks. She warned that the "irony of Mr. Sessions' nomination is that, if confirmed, he will be given life tenure for doing with a federal prosecution what the local sheriffs accomplished 20 years ago with clubs and cattle prods." We can now add that the other irony of the Sessions nomination is that a woman was silenced for attempting to read a 10-page document that had somehow been kept out of the public record for 30 years.
I asked Sherrilyn Ifill, president and director-counsel of the NAACP Legal Defense and Educational Fund, what this institutional silencing signifies. "We should remember that this letter was somehow never made part of the official Senate Judiciary Committee record in 1986, was reportedly kept from public release by the chair of the Committee in 2017, and now has been blocked from being read aloud in prime time by the Senate Majority Leader," she told me in an email. "The deliberate silencing of Mrs. King's voice for 30 years is a story of astonishing magnitude."