Guarding the Guard Dogs?
Are you a dog "owner"—or a dog "guardian"?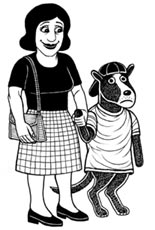 Last month, In Defense of Animals, a California-based animal rights organization, sent me some materials about its "Guardian Campaign." A polite letter complimented me on my most recent book, then requested that I use the term "guardian" rather than "owner" in future writings about dogs.
The benefits of relating to animals as guardians rather than as owners would be "far reaching," wrote IDA president Dr. Elliot Katz (who's no relation). Changing how we speak would help change how we act. In a world where dogs are protected rather than owned, Katz argued, it would be easier to crack down on animal abuse, end the puppy-mill trade, and stop the killing of animals at shelters.
As a dog lover, owner of a rescue dog, and member of two rescue groups, I'm not convinced there will be concrete benefits from this metaphoric, even Orwellian revolution. How exactly will these semantic changes improve the lot of animals? Why can't we shut down puppy mills, end some cruel animal research, save the lives of dogs and cats in shelters, prosecute animal abuse, and still call ourselves "owners"?
IDA's letter proudly pointed out that San Francisco; West Hollywood; Berkeley, Calif.; Boulder, Colo.; Amherst, Mass., and the state of Rhode Island have already enacted ordinances changing owners into guardians. (Some of those jurisdictions have also embraced the animal-rights movement's other language crusade, changing "pets" into "companion animals.")
Although IDA cited these cities and state as evidence that the notion of "guardian" is spreading, to me it suggests the opposite: Its successes are confined to left-wing pockets. I'll be impressed when Kansas City takes up the idea.
Social movements are only as effective as their ability to win popular support. I'm currently living in rural upstate New York, and I showed the IDA packet to Sandra, a sheep farmer who lives down the road with her female partner. She was shocked. "I love my Rottweiler," Sandra told me. "But I'd love to marry my partner and I can't. I have to say I'm a bit uncomfortable with dogs having more rights than I do. Me first." Sandra had just filed legal papers to have her partner declared her legal guardian in the event of serious illness. She said she was not about to do the same for her dog.
I reminded Sandra that animal rights don't really come at the expense of human rights—there's no reason both species can't have some protection. But her reservations are important. Easing animal suffering is inarguably worthwhile; turning animals into a kind of human is another matter.
And such a transformation seems the goal of some animal activists. My IDA packet contained a testimonial from a Michael Mountain of the Best Friends Animal Sanctuary. "People of other genders, races and even age groups were once treated as property in this country," Mountain wrote. "Now, it is time for 'people' of other species to be accorded the same simple dignity of being recognized, not as someone else's property but as beings in their own right."
Mountain couldn't have made the point more dramatically—or offensively. I don't care to jump in with a moral value system that equates my beloved border collies with human slaves. Nothing about this comparison helps animals. It distorts their true natures and diminishes ours.
The guardian campaign is a vivid example of the growing tendency to blur the boundaries between us and our pets. Many Americans have already stopped seeing their dogs and cats as animals. They're family members, emotional support systems, metaphors for issues from our own pasts, aids for healing and growth, children with fur.