Hate-Speech Hypocrites
How can we ban hate speech against Jews while defending mockery of Muslims?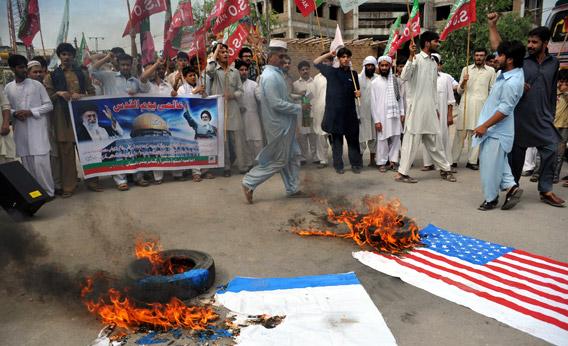 Jews have too much influence over U.S. foreign policy. Gay men are too promiscuous. Muslims commit too much terrorism. Blacks commit too much crime.
Each of those claims is poorly stated. Each, in its clumsy way, addresses a real problem or concern. And each violates laws against hate speech. In much of what we call the free world, for writing that paragraph, I could be jailed.
Libertarians, cultural conservatives, and racists have complained about these laws for years. But now the problem has turned global. Islamic governments, angered by an anti-Muslim video that provoked protests and riots in their countries, are demanding to know why insulting the Prophet Mohammed is free speech but vilifying Jews and denying the Holocaust isn't. And we don't have a good answer.
Advertisement

If we're going to preach freedom of expression around the world, we have to practice it. We have to scrap our hate-speech laws.
This debate between East and West, between respect and pluralism, isn't a crisis. It's a stage of global progress. The Arab spring has freed hundreds of millions of Muslims from the political retardation of dictatorship. They're taking responsibility for governing themselves and their relations with other countries. They're debating one another and challenging us. And they should, because we're hypocrites.
We are all aware of the fact that laws exist in Europe and other countries which impose curbs, for instance, on anti-Semitic speech, Holocaust denial, or racial slurs. We need to acknowledge, once and for all, that Islamophobia in particular and discrimination on the basis of religion and belief are contemporary forms of racism and must be dealt with as such. Not to do so would be a clear example of double standards. Islamophobia has to be treated in law and practice equal to the treatment given to anti-Semitism.
He's right. Laws throughout Europe forbid any expression that "minimizes," "trivializes," "belittles," "plays down," "contests," or "puts in doubt" Nazi crimes. Hungary, Poland, and the Czech Republic extend this prohibition to communist atrocities. These laws carry jail sentences of up to five years. Germany adds two years for anyone who "disparages the memory of a deceased person."
Hate speech laws go further. Germany punishes anyone found guilty of "insulting" or "defaming segments of the population." The Netherlands bans anything that "verbally or in writing or image, deliberately offends a group of people because of their race, their religion or beliefs, their hetero- or homosexual orientation or their physical, psychological or mental handicap." It's illegal to "insult" such a group in France, to "defame" them in Portugal, to "degrade" them in Denmark, or to "expresses contempt" for them in Sweden. In Switzerland, it's illegal to "demean" them even with a "gesture." Canada punishes anyone who "willfully promotes hatred." The United Kingdom outlaws "insulting words or behavior" that arouse "racial hatred." Romania forbids the possession of xenophobic "symbols."
TODAY IN SLATE
Politics
Talking White
Black people's disdain for "proper English" and academic achievement is a myth.
Operation Backbone
How White Boy Rick, a legendary Detroit cocaine dealer, helped the FBI uncover brazen police corruption.